The Annual Town Election will be held on Monday, March 29, 2021 from 7:00 AM to 8:00 PM. Voting by mail will be available for this election. You must fill out an a new Vote by Mail application below for this election to receive a ballot. Ballots will be mailed out beginning March 8th.
Voters are encouraged to VOTE BY MAIL as a precautionary measure in response to COVID-19. Complete Vote-by-Mail or Absentee Ballot application below and return to the Town Clerk's Office ([email protected]).
For more information, see Absentee Ballots & Vote-By-Mail below.
Election Day
What do I need to know if going to vote in person at the polls on Election day?
The Polls will be open Monday, March 29 from 7 am to 8 pm.
Do NOT go to the POLLS if you are sick or have been exposed to the virus leading up to Election Day – Call 978-639-3351 for voting options from home
Know your Precinct #: Click the hyperlink to Find my Precinct
Wear a Face Covering
Bring a Pen – Blue or Black ink – sharpie or Paper Mate Flair recommended (machines will not read red / highlighters; Pencil / crayons cause issues with tabulator breakdowns)
Bring an ID – in some cases voters will be required to show an ID. That ID can be anything (license, a bill, email) but the voter name and address must match how you are registered.
Refrain from touching your face while at the polling location
Maintain Social Distancing – keep 6' away from anyone not from your household
Keep your ballot dry and free from hand sanitizers! Do not use hand sanitizer while handling your ballot and be sure your voting booth is dry as it will cause issues tabulator breakdowns
Our commitment to keep voters safe:
Voting Booths will be cleaned throughout the day
Unused / sanitized pens will be provided to those who need one
Hand sanitizer will be provided at the exit
Voter Registration
Click here to check your voter registration status
If you are not currently registered to vote in Sudbury, Tuesday, March 9th is the deadline to register and be eligible to vote in the Annual Town Election.
Persons who are United States Citizens, residents of Massachusetts, and who will be at least 18 years old on or before March 29th are eligible to register. Those meeting these qualifications who have a Massachusetts Driver's License can submit their registration online at www.RegisterToVoteMA.com. Mail in registrations must be postmarked on or before the deadline.
Click here for additional information on Voter Registration.
Ballot Information
Specimen Ballot for the 2021 Annual Town Election:
Election Warrant for the 2021 Annual Town Election (mailed to all households in Sudbury):
Absentee Ballots & Vote-By-Mail
Currently, any person taking precautions related to COVID-19 in response to a declared state of emergency or from guidance from a medical professional, local or state health official, or any civil authority shall be deemed to be unable by reason of physical disability to cast their vote in person at a polling location.
It is the opinion of this office that you qualify for an absentee ballot due to physical disability if:
You are ill;
You are confined to your home because you may transmit infection; or
You cannot leave your home because you are a member of a population vulnerable to illness;
You are staying in your home or avoiding your polling place as a precautionary measure in response to COVID-19.
The law has been extended to allow early voting by mail for any election held on or before March 31, 2021. Early voting by mail is similar to absentee voting, but unlike absentee voting, no excuse is required. You must fill out a new application every year.
We encourage all who are not able to go to the polls to submit a 2021 ABSENTEE BALLOT APPLICATION. You can also request a 2021 VOTE-BY-MAIL APPLICATION. There is no in-person Early Voting for the Annual Town Election.
Completed applications may be emailed to [email protected], mailed to: Sudbury Town Clerk, 322 Concord Rd., Sudbury MA. 01776 or left in the Town Clerk lock box. Applications must be received by the Town Clerk's Office by 5 pm on Tuesday, March 23.
HOW TO FILL OUT YOUR VOTE BY MAIL BALLOT
Fill out ballot with a blue or black pen (do not use red ink)
Place in yellow affidavit envelope and seal and sign envelope (Your ballot will not be accepted if the envelope is not signed)
Place in white return envelope, seal and mail or drop off in ballot drop box. Remember-If you are planning to mail back the ballot you will need two stamps.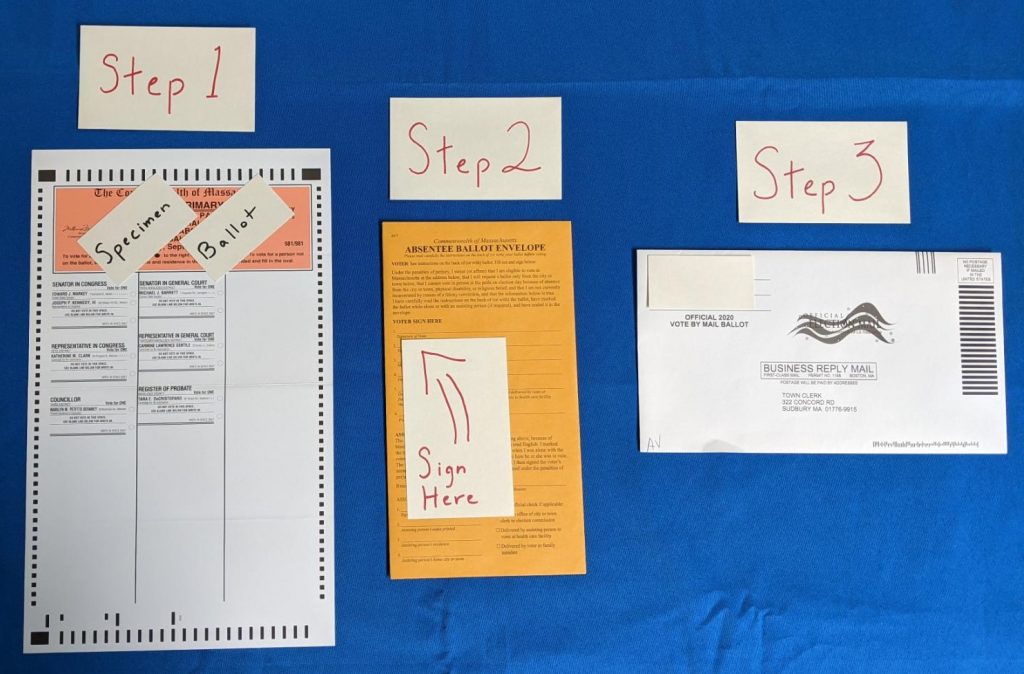 If you are planning to vote by mail, apply early and allow ample time for mailing- The full process will take more than one week to accomplish It could take up to a week to receive your ballot due to reduced staffing and mailing time and it could take up to a week for it to be mailed back. Ballots must be returned to the Town Offices (not polling locations) by the close of polls on March 29th to be counted. A ballot drop box is available outside the Town Clerks office, 322 Concord Road. (Rear of building) This is the only ballot drop box available and will be open 24/7.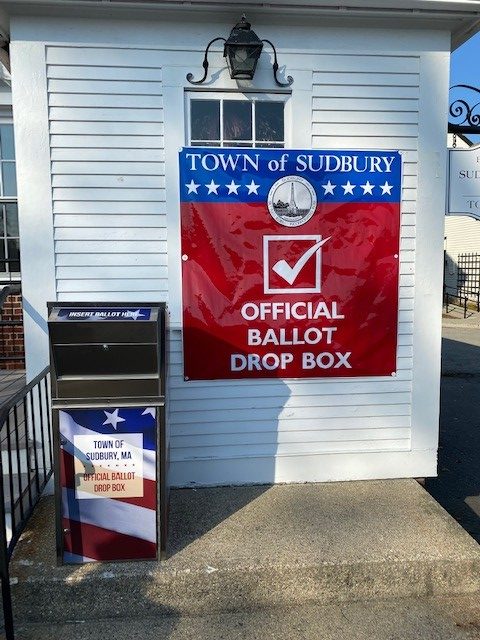 All completed ballots must be received by 8:00 pm on election day. All voters who have requested a ballot for the March 29, 2021 Annual Town Election will still be eligible to vote in-person on election day as long as their ballot has not been cast.
If you have any questions, please call the Town Clerk's Office at 978-639-3351 or email us at [email protected].