The Vote By Mail Application is for use by:
Any registered voter who does not want to vote in person
OR
A non-registered voter who is:
a Massachusetts citizen absent from the state; or
an active member of the armed forces or merchant marines, their spouse or dependent; or
a person confined in a correctional facility or a jail, except if by reason of felony conviction.
Click Here for the Vote by Mail Ballot Application for a Voter or a Family Member
Click Here for the Federal Post Card Application (FPCA) for citizens residing overseas
Accessible Vote by Mail Ballot
If you have a disability that makes it difficult for you to mark a paper ballot click here for more information.
Submit A Vote By Mail Application
Applications are also available at the Town Clerk's Office. Completed, signed applications should be either mailed, scanned and sent by email or faxed to the Town Clerk's Office by 5pm on the 5th business day before an election. Please contact the Town Clerk for more information.
Town Clerk
322 Concord Road, Sudbury MA 01776
Phone: 978-639-3351
Fax: 978-639-3340
Clerk@sudbury.ma.us
Submit A Vote By Mail Ballot
All Vote By Mail ballots returned by mail or hand delivered to the Town Clerk's Office must be received before the polls close on Election Day for the State Primary. VOTE BY MAIL Ballots cannot be accepted at the polling locations on Election Day.
HOW TO FILL OUT YOUR VOTE BY MAIL BALLOT
Fill out ballot with a blue or black pen (do not use red ink)
Place in yellow affidavit envelope and seal and sign envelope. Your ballot will not be accepted if the affidavit envelope is not signed.
Place in the white postage prepaid return envelope, seal and mail or drop off in ballot drop box.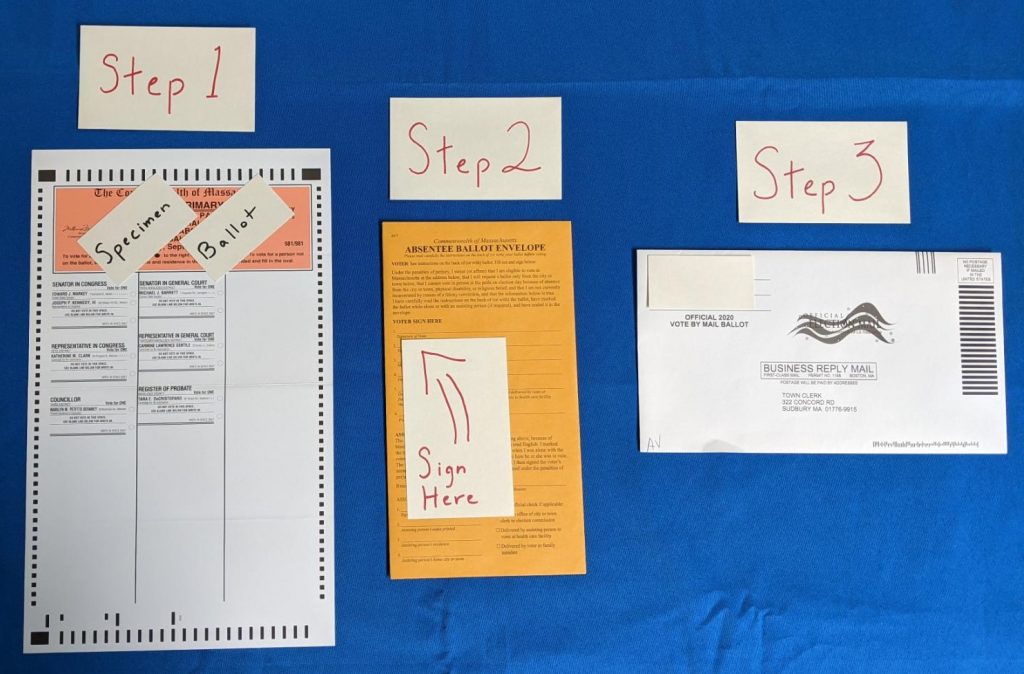 Track Application & Ballot Status
You can check the status of your Absentee application or ballot at TRACK MY BALLOT.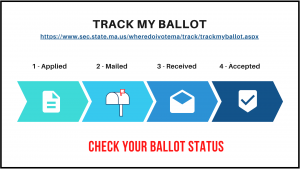 If you are not yet a registered voter in Sudbury, click here for Voter Registration Information.
Categories