Sudbury Public Works Monthly Construction Update: DECEMBER 2022
TOWNWIDE DRAINAGE IMPROVEMENTS
GOODMAN'S HILL ROAD – Drainage Improvements
Phase 2 work is expected to be completed this week. Phase 2 work includes work between Old Lancaster Road and Route 20. The paved trenches will be watched closely over the winter for settlement.
PEAKHAM ROAD – Drainage Improvements
Construction is expected to start the week of December 12. Phase 1 work will be between Meadowbrook Circle and Pratts Mill Road. School buses, police and fire will be allowed through the construction zone, but all others will be discouraged.
The detour for this phase includes Marked Tree Road, Noyes Lane and Horse Pond Road (see sketch below). Detour signs will be in place from 7AM until around 3PM. Work is expected to be completed before the January 1.
Phase 2 work is expected to begin in the spring 2023 and will include work between Pratts Mill Road and Old Lancaster Road.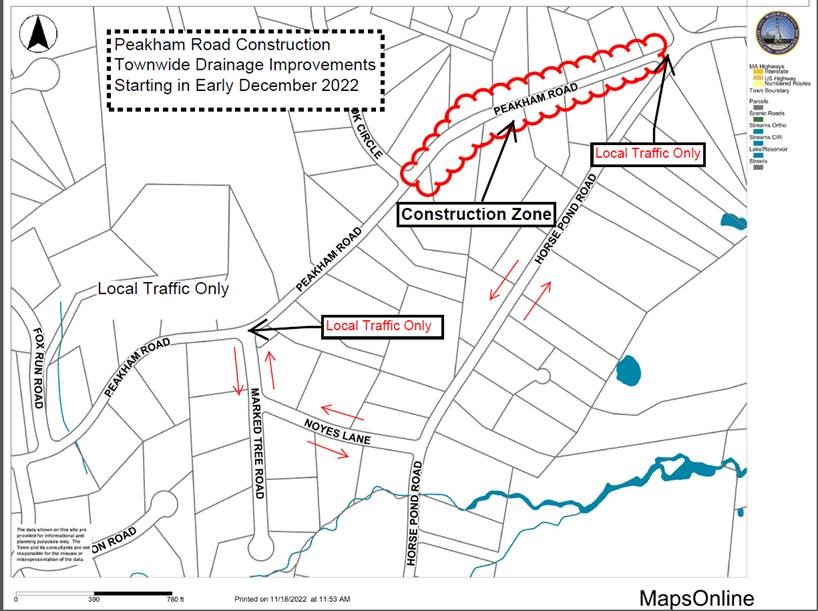 PAVEMENT PRESERVATION – MICRO SURFACING
WAYSIDE INN ROAD – Postponed until Spring 2023.
BOWDITCH ROAD – Postponed until Spring 2023.
PLEASE NOTE: The micro surfacing application was not curing in a reasonable time in other communities due to colder weather and dampness. As a result, the contractor shut all applications down until the spring.
About Micro Surfacing: A Micro Surface is a thin layer (3/8-inch) preventative maintenance treatment applied to an existing paved (and crack sealed) surface. Consists of a carefully proportioned blend of polymer-modified asphalt emulsion, crushed aggregate, water, and mineral filler. The preservation treatment extends the life of the asphalt by providing skid resistance, restricting moisture intrusion, UV damage and surface raveling, and overall appearance.
What to expect: Loud noise and possible night work and 2-lane closure. Micro Surfacing takes place in several phases and will require several days to complete for each road section.
Categories