The September 11th Memorial Garden Oversight Committee invites the community to visit the Memorial Garden on Monday, September 11, 2017 to commemorate the sixteenth anniversary of the tragic terrorist attacks that took the lives of town residents Geoffrey Cloud, Cora Hidalgo Holland, and Peter Morgan Goodrich, as well as all those lost on September 11, 2001.
Color Guard to present at 8:43 a.m.
Laying of Memorial Flowers at 8:45 a.m.
Residents are encouraged to come to the Garden during the morning event, or to visit the site at any point throughout the day to pay their respects.
The September 11th Memorial Garden is located in Heritage Park, at the intersection of Concord Road and Route 27, across from the Sudbury Town Hall.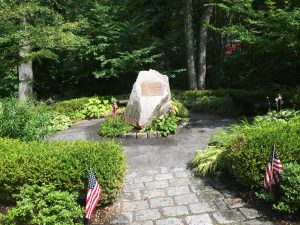 Event Details
Start:
Monday, September 11th, 2017 at 8:30 AM
End:
Monday, September 11th, 2017 at 9:30 AM
Location:
Heritage Park

Email this Article


Back to September 11 Memorial Garden Oversight Committee