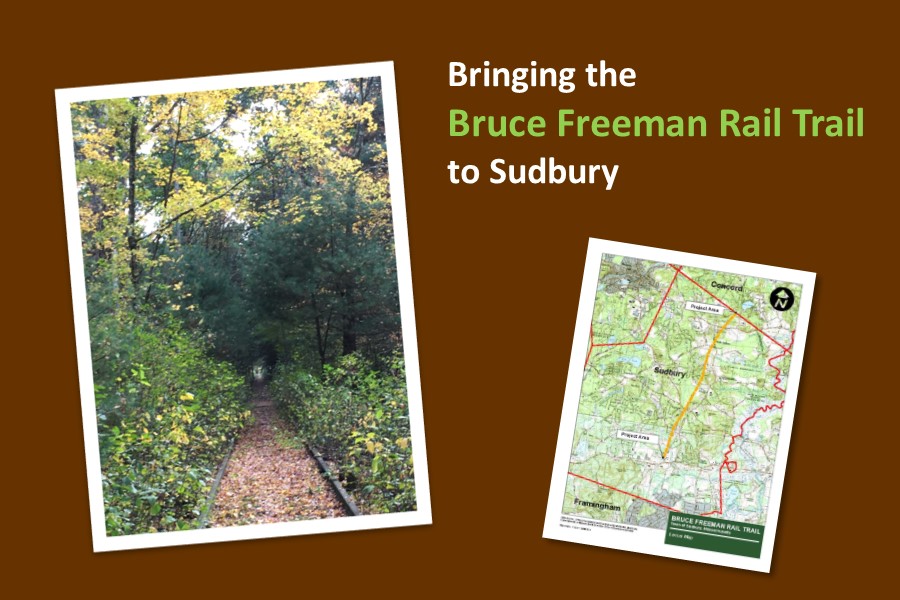 The Bruce Freeman Rail Trail (BFRT) will be a 25-mile rail trail between Lowell and Framingham, along the former Lowell Secondary Track right-of-way of the Old Colony Railroad (Full BFRT Corridor Map and Status). In Sudbury, the rail corridor extends though the center of Town, approximately 4.4 miles from South Sudbury near Route 20, north to the Sudbury/Concord Town line (Sudbury BFRT Project in Design Map). The Town is in the process of designing the trail, which will be constructed with State and Federal support.
The project is on the 2021-2025 Transportation Improvement Program (TIP) of the Boston Metropolitan Planning Organization (MPO) committing construction funding during Federal Fiscal Year 2022.
The 25% Design has been approved by MassDOT. Approved plans are found in the links below. MassDOT is presenting a virtual Design Public Hearing and requests associated comments from July 16-30 , 2020 at https://www.mass.gov/massdot-highway-design-public-hearings.
To learn more about the project, please click the blue underlined hyperlinks below.
Bruce Freeman Rail Trail Design Task Force
Please see the BFRT Design Task Force webpage for information on the Task Force.
Email Notification
If you are interested in receiving project updates about the Sudbury BFRT, please sign up for email notification.
MassTrails Grant Award for Sudbury Acquisition of CSX Corridor
August 1, 2020: Town of Sudbury has been awarded a $300,000 MassTrails Grant toward the acquisition of the CSX-owned 1.4-mile corridor for future potential expansion of the Bruce Freeman Rail Trail. Learn more at https://sudbury.ma.us/pcd/?p=2571.
MassDOT Design Public Hearing: July 16 – 30, 2020
MassDOT's virtual Design Public Hearing for the BFRT in Sudbury is presented as a webinar which was posted online on July 16th. Public comments to be captured as part of the Design Public Hearing proceedings should be directed to MassDOT by July 30th. The video will be available and additional comments may be submitted on an ongoing basis following compilation of the Public Hearing proceedings.
The hearing is presented at https://www.mass.gov/massdot-highway-design-public-hearings and on Sudbury TV.
Design Public Hearing Slides for Reference:
Slides 1-9, Project Introduction, History, Scope
Slides 10-25, Design Elements, Roadway Crossings
Slides 26-37, Historic Elements, Traffic, Structural Design Introduction
Slides 38-52, Structural Design Hop Brook and Boardwalk
Slides 53-71, Structural Design Pantry Brook, Environemntal Context, Next Steps, How to Comment
Click below to learn more about the hearing:
Public Hearing Announcement Public Hearing Notice Public Hearing Flyer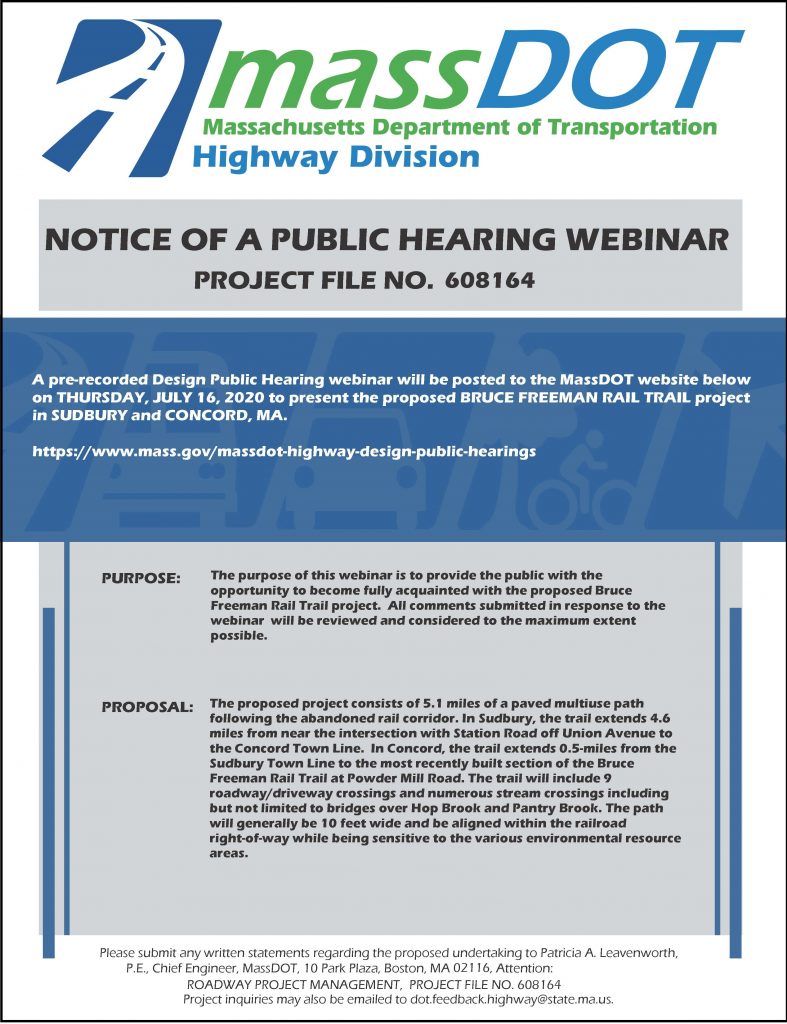 BFRT MassDOT Approved 25% Design Plans
Pantry Brook Bridge Sketch Plans
25% Revised Sketch Plan Submission to MassDOT April 2020
Approved Hydraulic Report, Pantry Brook (coming soon)
Approved Hydraulic Memo, Hop Brook
Pantry Brook Bridge Sketch Plans

BFRT Project Update February 2020
Boston Metropolitan Planning Organization (MPO) Matt Genova Email Update on Transportation Improvement Program (TIP) Planning/Project Readiness
Select Board Letter to MassDOT, February 12, 2020
BFRT Project Update December 9, 2019
MassDOT General Design Process Flowchart (BFRT – Sudbury Design Status highlighted)
Schedule for 25% Design and Design Public Hearing
25% Sketch Plan Submission to MassDOT November 27, 2019
Sketch Plan Pantry Brook Bridge
Sketch Plan Boardwalk (south of Hudson Road)
Soil Samples/Borings along the Corridor in Summer 2019
Crews collecting data on the Bruce Freeman Rail Trail Corridor, August 2019 Public Notice
BFRT Project Update July 9, 2019
Memo for BOS Meeting July 9, 2019
25% Structural Design (Bridge Sketch Plans) Development
Schedule March 2019

MassDOT Comments Received on 25% Submission
Bridge Section Comments Pantry Brook
Bridge Section Comments Hop Brook
Geotechnical Section Comments

25% Design Plans Submitted to MassDOT, September 2017
Town Letters to MassDOT: September 8, 2017 and September 15, 2017
25% Design Plan Set
25% Design Submission Booklet (Highway, Environmental, and Traffic Checklists, Construction Cost Estimate, and Parking Memo)
Functional Design Report
Hop Brook Preliminary Structures Report
Pantry Brook Bridge Type Study Report
25% Design Right of Way (ROW) Plans
25% Design Utility Plans

Other Documents, September 2017
Designer (VHB) Response to Town Comments
Estimated Wetlands Impacts
Estimated Floodplain Impacts

Preliminary Design Plans
Preliminary Design Memo from VHB
Preliminary Design Plans Overview Presentation Identifying Some Challenge Areas
Preliminary Design Plans
Preliminary Profiles
Preliminary Cross Sections
Preliminary Roadway Crossing Plans Feb 2017
Final BFRT Design Task Force Recommendations March 2017
Alternatives Analysis
Potential Roadway Alternative Routes
Design Process
Proposal Request – 25% Design BFRT; September 10, 2014
Accepted Proposal Response – VHB; October 3, 2014
Communications/Correspondence
October Update Memo – BOS Meeting; November 1, 2016
August Update Memo – VHB; August 31, 2016
Town Counsel Opinion on Superseding Order of Conditions; August 7, 2015
MassDOT Letter; May 5, 2015
MassDOT Letter; May 1, 2014
BFRT Meetings
Bruce Freeman Rail Trail Meeting; March 9, 2017 Meeting Flier Notes
Bruce Freeman Rail Trail Meeting; November 29, 2016
Bruce Freeman Rail Trail Design Charrette; August 25, 2016 Notes
Bruce Freeman Rail Trail Meeting; June 21, 2016 Presentation
Rails to Trails Public Forum; January 22, 2015 Rails to Trails Forum Minutes
Other Items
Support letters from BFRT Town Representatives: Acton, Chelmsford, Westford
Request for Funding to Acquire the Northern Portion of the CSX Corridor – 2018 Application for the Recreational Trails Program Grant
Town Meeting CPC Appropriation Vote; May 7, 2014
Board of Selectmen BFRT Gift Acceptance Vote; April 8, 2014 (begins on page 5)
Rail Trail Resources
MassDOT Project Development and Design Guide
Shared Use Path Planning and Design Guide
Boston Metropolitan Planning Organization (MPO) Transportation Improvement Program (TIP)
Friends of the Bruce Freeman Rail Trail – BFRT Trail Maps
Metropolitan Area Planning Council (MAPC) Trailmap (Regional Online Trail Map)
Categories
Email this Post
Content Shortlink
Back to Planning & Community Development