Sudbury Parks and Recreation is proud to provide you with our NEW activity registration system and website. To get started please Create an Account with all your household information. The data provided – emergency contacts, medical information, etc. – will help us better serve you. This info will also be automatically placed into your registration forms.
When you're ready to start registering for activities, be sure to review the How to Register for an Activity page.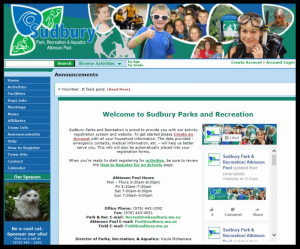 NEW ACCOUNT LOG IN INFORMATION:
Anyone who previously had an account with us will need to set up a new account. If you have already registered for a fall program that was listed in the summer brochure, you will need to create a new account with our new software. However you will NOT need to re-register for the program. If you have a membership at Atkinson Pool, you will not need to do anything as your information will be entered by Park & Recreation Staff.
New Account/Registration System Customer Set-Up
Please go to www.SudburyRec.com and click on the "create new account" link in the top right side of the webpage.
Your account name should be your household last name, as it will help us be able to look up the account faster if there are any questions.
Don't forget to enter all fields, especially your cell phone number with the carrier so we can text you with any important program updates, changes or weather cancelations.
There is an area for receiving e-mail notifications on the first screen of the household account. To receive the most up to date information, and important program notifications please check yes to both cancellations and general updates.
Be sure to add all members of your household into the account when prompted; all members will be in one account.
Your new household account will provide you with registration history , financial history, and much more!
If you need any receipts or information for tax purposes from past registrations, please contact us no later than November 30, 2016. After December 1, 2016 we will no longer have access to your past registration information.
Please feel free to contact webmaster@sudbury.ma.us or if you need some assistance prior to registration:
Call us at: 978-443-1092 or E-mail us: recreation@sudbury.ma.us