A day to celebrate friendships that bridge the racial divide.
On April 30, 2019, the Board of Selectmen voted to proclaim June 9, 2019 as Race Amity Day in Sudbury. Click below to view the proclamation: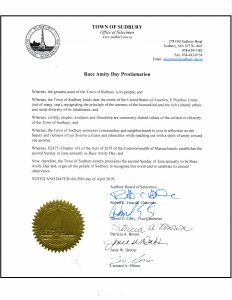 Sudbury will be one of 97 cities in 26 states (and one Canadian Province) to celebrate Race Amity Day on June 9, 2019.
SUDBURY RACE AMITY DAY CELEBRATION
SUNDAY, JUNE 9, 2019
GOODNOW LIBRARY
1:30PM – 5PM
1:30PM: WELCOME
Selectman Dan Carty and Police Chief Nix
2PM: FILM SCREENING, STORY TIME and CRAFTS
Screening & discussion of An American Story: Race Amity and the Other Tradition
4PM: GATHERING OF FRIENDS
Learn more at SudburyRaceAmity.org
Categories
Email this Post
Content Shortlink
Back to Selectmen's Office