The Sudbury Cultural Council (SCC), a state agency supported by the Mass Cultural Council, accepts grant applications on an annual basis for arts and culture, humanities, and interpretive science projects, including performances, lectures, exhibits, events, field trips, and capital expenditures designed to enrich the lives of our community. Applications this year are due by Monday, October 17 at 11:59 PM. Funding is available for programs that occur between July 1, 2022 and December 31, 2022. Visit www.massculturalcouncil.org/local-council/Sudbury for more information and to submit your application online.
The SCC prioritizes programs that take place in Sudbury or where a large portion of the participants are from Sudbury, either as performers, leaders, or audience members. The SCC also considers grant applications for programs in contiguous towns if the applicant can demonstrate a direct benefit to Sudbury residents.In order for a grant to be considered, applicants must have a confirmed venue and date; we will automatically reject applications without them. We do not fund food or refreshments of any sort. If you need to make changes to your project after you've received a grant, you must put it in writing to the SCC for approval.
Past grant recipients are invited to apply each year, but previous funding does not guarantee future funding. If you are in doubt about your program, you are welcome to contact us for advice at culturalcouncil@sudbury.ma.us, but again we do not guarantee funding. We also do not guarantee that we will fully fund grant requests, so we recommend finding other sources of income in the event you do not receive the full amount of your request. We rarely grant more than $1000 per applicant, although there are exceptions. Our average grant is between $400-500, but it depends on the number and quality of the grant applications we receive each year.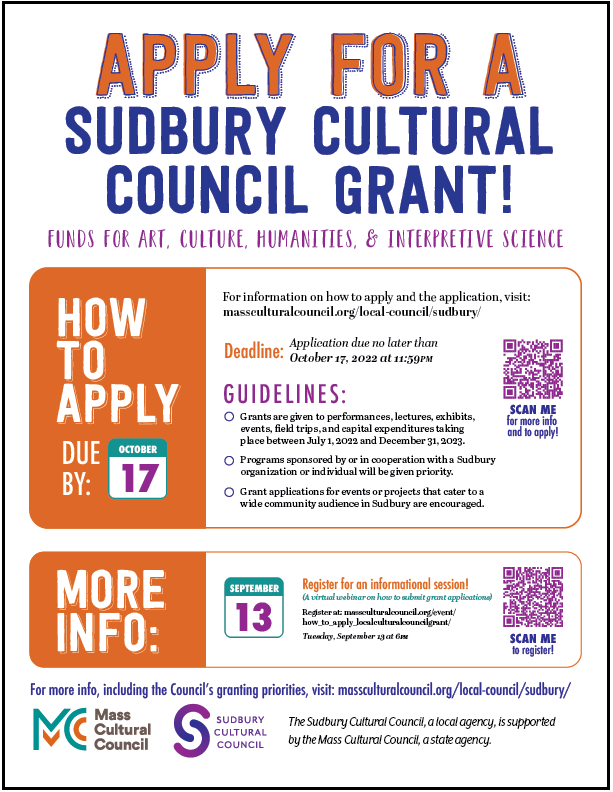 Categories