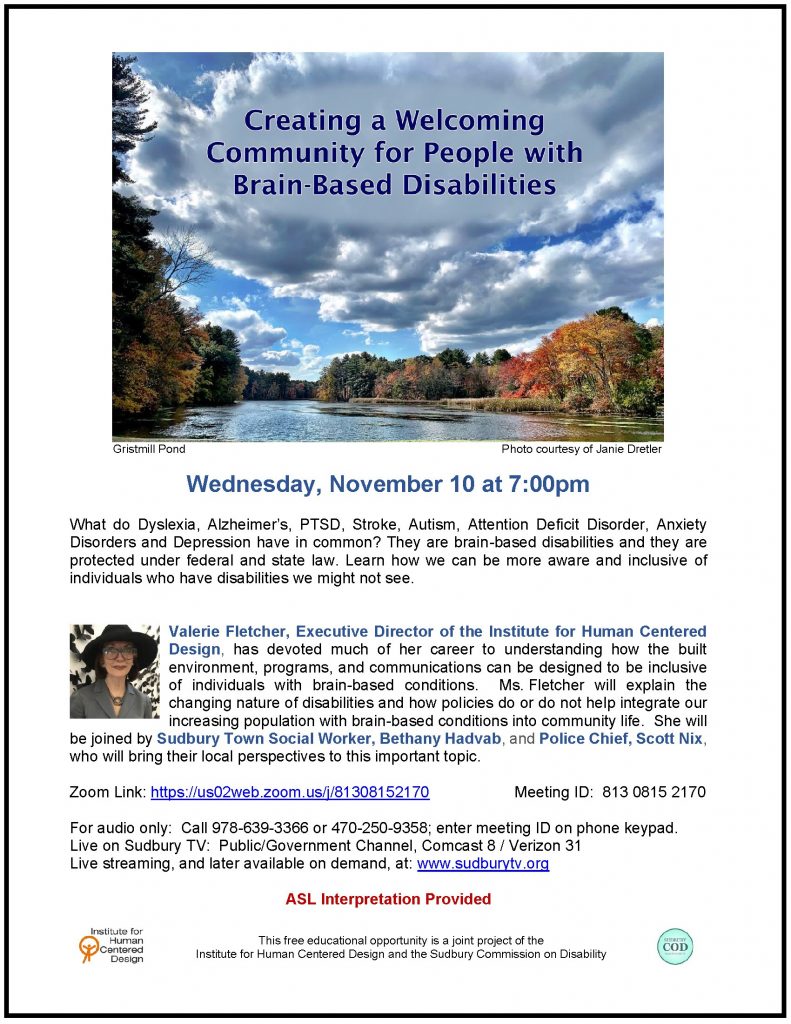 Creating a Welcoming Community
for People with Brain‑Based Conditions
Wednesday, November 10, 2021 (7:00 – 8:00 PM)
Virtual Special Presentation

For audio only, call the number below and enter the meeting ID on your telephone keypad.
Dial-in number: 978-639-3366 or 470-250-9358
Meeting ID: 813 0815 2170
What do Dyslexia, Alzheimer's, PTSD, Stroke, Autism, Attention Deficit Disorder, Anxiety Disorders and Depression have in common? These are all brain‑based conditions in parity with physical causes for disability in terms of protections under federal and state law, although they may be quite invisible at first glance.
Valerie Fletcher, Executive Director of the Institute for Human Centered Design, has devoted much of her career to understanding how the built environment, programs, and communications can be designed to include people with these and other brain‑based conditions. We will learn how policies do or do not help integrate our growing population with brain‑based conditions into community life.
Sudbury Social Worker, Bethany Hadvab, and Police Chief, Scott Nix, will join Ms. Fletcher for a conversation about our situation in Sudbury and what practices we may add to our existing tool box for making our town that much more inclusive for our ever more neuro-diverse community.
Event Details
| | |
| --- | --- |
| Event Start: | Wednesday, November 10, 2021 (7:00 pm) |
| Event End: | Wednesday, November 10, 2021 (9:00 pm) (Expected) |
| Location: | Virtual Meeting |
| Join URL: | https://us02web.zoom.us/j/81308152170 |
| Dial-in: | Dial-in number: 978-639-3366 or 470-250-9358 |
| Meeting ID: | 813 0815 2170 |
| Committee: | Commission on Disability |
| Notes: | TONIGHT: Virtual Special Presentation by Valerie Fletcher of the Institute for Human Centered Design on Wednesday, Nov. 10, 2021 at 7 PM, via Zoom. |
Categories