The Eversource Winter Rate Increase goes into effect in January 2023. The Eversource Basic Service rate for Residential customers will increase to $0.25 per kWh. Those participating in the Sudbury Community Electricity Aggregation (CEA) program will pay $0.10 per kWh for the Sudbury Green electricity supply option. It only takes a few days to process any account changes – interested account holders still have time to enroll before the new Eversource rate goes into effect.
How to Participate in Sudbury CEA
Most residents and businesses in Sudbury already participate in the Sudbury CEA program.
Check your electricity bill to see if you're already enrolled in Sudbury CEA: the Supplier should be listed as NextEra ENGYSV MA-Sudbury Agg.
If Eversource is still listed as your supplier, you may complete the enrollment form to sign up for Sudbury CEA. If a different supplier is listed, contact that supplier to check for penalties or termination fees that they may charge before you join the Sudbury CEA program.
Learn more at https://sudbury-cea.com/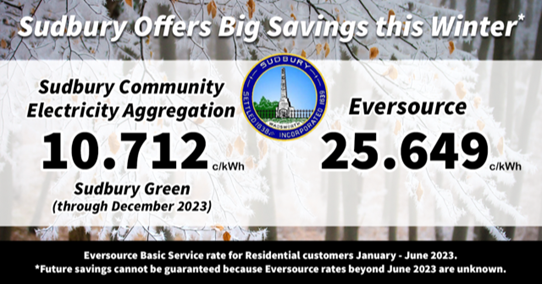 Categories