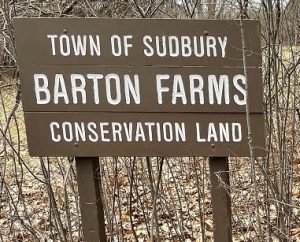 Barton Farm contains active cooperative and commercial farms leased to farmers from the Conservation Commission. Farmers grow asparagus, cabbage, parsley, and other crops. The site also contains areas of wild grasses and cottontail. A Penn Central Railroad line passes through Barton Farm, intersecting the farming areas. Barton Farm also contains small streams, including Pantry Brook and Sawmill Brook, and a small pond area. Lush forest and brush areas border the farming fields.
The Barton Conservation Land is the remainder of what was once 128 acres of farmland. It was acquired by George Barton in 1850 from Israel Hunt. The farmhouse was built by Israel Hunt in 1801. The barns across Marlboro Road from the farmhouse were built in the mid 1800's. The smallest barn, located on the north side of the two larger barns, was the original post office for North Sudbury and was formerly located at the depot between Haynes and Pantry Roads. The original barns were completely destroyed by fire in the winter of 1846, making the present barns a second set for the farm.
The individual fields were each given a name so that family and hired help could easily locate areas. As you follow the trail that begins at the parking lot, you will be able to recognize each field by its name. The first field, "Three Corner Piece" abuts Marlboro and Haynes Roads and is adjacent to the parking lot driveway. On the left is "Noyes Hill" and on the right is the "Maple Grove." Maple saplings were sold from here to other area farms. Continuing south on the trail you enter "Noyes Flat." Toward the woods, "Noyes Island" is surrounded by stonewalls, a ditch, and Sawmill Brook in the woods, parallel to the railroad tracks. The trails continue west through the "Rocky Piece" until the brook meets a pond. A former gristmill ran on the south side of the pond. At one time, the farm continued to Mossman Road where a few distinctive landmarks still remain.
Parking
A small gravel parking area is available at 296 Marlboro Road, in front of the kiosk.
Trail Challenges
Barton Farm, for the most part, contains relatively flat terrain. The site presents a generally easy hike, except for the area approaching the Penn Central rail line. At the rail line, a moderate incline exists with a length of approximately 15 feet to climb to the rail line. The railroad ties may be slightly difficult to walk. A descending trail leads to a wooded area. This wooded area between farming fields contains some slopes, branches, tree roots, and rocks which are moderately difficult to cross.
CAUTION: Sections of Barton Farm cross onto private property. Please stay on public trails identified on the trail map in this section.
Trail Comments
"An interesting group of active farm fields. A good way to see some farming in Sudbury."

"The farming fields are very easy to walk around."

"The trees lined the railroad tracks on either side to create a shady walkway."

"It's really fascinating to see all the crops being planted and growing."

"Walking on the railroad tracks through the woods is really beautiful."
Trail Videos
Barton Farm – Highlights
Barton Farm – Trail Hike
Trail Photographs

Back to Conservation Office
Location Categories