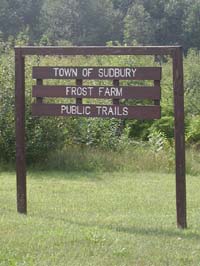 Frost Farm is located near the North Woods Office and Condominium complex on North Road. The site contains vast open meadows along with forested areas, which surround the open fields. Consult the trail map for the parking location and the trail entrance.
The house at the farm, formerly known as the Briardale Farm, was purchased by Mr. Levenstein in the 1920s. He rebuilt it as a mansion. The house burned down, and then Mr. Lowenstein immediately rebuilt it. He raised racehorses on the farm. In 1932, he sold the farm to Mr. Frost, a wealthy gentleman farmer, who raised and sold sheep. Mr. Frost converted the horse stable to a poultry barn. The property changed hands several times in the late 20th century until the town purchased the house and grounds.
Trail Challenges
The start of the Frost Farm trail contains a wide-open trail area and fields with small slopes. Hiking through these areas is generally easy. Hikers enter the forested area to the east of the trail, which may be muddy or flooded. The forested area contains minor hills and moderate slopes, with multiple roots and rocks along the trial. Some of the slopes along minor trails can be steep. However, the main trail is generally wide with average difficulty other than some slopes. Some of these wooded area trails also contain brush and are moderately challenging to hike.
Trail Comments
– "The meadows at the start of the hike are really colorful and beautiful. There are lots of wetlands and streams also."
– "The forest trail has great trees and views, especially of the pond." NOTE: The pond is not part of Frost Farm).
"The fields are surrounded by great forests and wetlands. This is one of the best hikes in Sudbury."
"Hikers can keep going through to Concord if they head north and can reach White Pond." NOTE: The field and White Pond are not part of Frost Farm.
Trail Videos
Frost Farm – Highlights
Frost Farm – Trail Hike
Trail Photographs

Back to Conservation Office
Location Categories