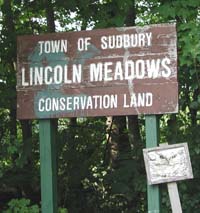 The 78-acre Lincoln Meadows Conservation Reservation located in the northeastern corner of Sudbury. The land is a part of a large, unspoiled 1,080-acre area In the Sudbury River Valley. This area includes the Great Meadows Wildlife Sanctuary (U.S. Department of Interior), the Pantry Brook Reservation (Massachusetts Fish and Game Division), and Round Hill (Sudbury Valley Trustees), all of which are contiguous.
Lincoln Meadows, purchased by the Town of Sudbury in two parcels in 1965 and 1971, is located at the base of Round Hill. Lincoln Meadows and the surrounding areas include fields, marsh, woodland, ponds, and streams. Many kinds of plants and small animals are found in the wetland and upland terrain of Lincoln Meadows. It is situated in a major flyway where migratory birds can be observed in spring and fall.
Round Hill was purchased in 1964 by the Sudbury Valley Trustees, Inc., a private land trust. A glacial remnant of the Ice Age, it stands at an elevation of 227 feet above sea level and is the most prominent geological feature of the area. Round Hill is not part of the Lincoln Meadows property.
Both Lincoln Meadows and Round Hill are managed by the Sudbury Conservation Commission for quiet recreational use by the public and are subject to the regulations adopted by the Commission.
Parking
A small gravel parking area is available at 190 Lincoln Road.
Lincoln Meadows Garden and Viticulture Program
Lincoln Meadows features the Sudbury Community Gardens and an experimental program for viticulture. The program exists for gardeners who like to grow vegetables and flowers in the summer in a sunny location with rich soil. Garden plots exist in the organic and inorganic sections of the property. Plots are also available for residents of neighboring towns.
The cost of each 30 foot by 30-foot plot is $20 and covers plowing, manure, staking, and other incidental expenses. Smaller plots are also available. Gardeners may obtain more than one plot. A kiosk with a posted plot map provides guidance to the area, and a hand pump accesses surface water, providing a source of water into early summer. Information on the Community Gardens is located here.
Trail Challenges
The trail at Lincoln Meadows along the community gardens is wide and flat. As hikers approach Round Hill, the trail has a moderately steep slope to the top of the hill with some rocks and tree roots.
Trail Comments
– "The community gardens are really interesting. There are many crops grown by individuals in their gardens. You can also see how people tend to their gardens."
– "The garden plots have all kinds of tools and items that people use. There is also a water pump for everyone to use."
– "Across from Lincoln Road are large farms with massive fields."
– "There is a great root cellar building next to the parking lot."
– "On the east side of the property, hikers can reach the Great Meadows Wildlife Refuge trails, which are really impressive also."
Trail Videos
Lincoln Meadows – Highlights
Lincoln Meadows – Trail Hike
Trail Photographs

Back to Conservation Office
Location Categories