Message from Wayland DPW
Wayland DPW will be rehabilitating the bridge located on Old Sudbury Road (Route 27) as the road crosses the Sudbury River. The bridge, which is nearing 75 years old, was recently identified as having serious deficiencies and needing considerable rehabilitation to ensure that existing traffic can safely cross the bridge. Wayland is undertaking a project to quickly restore the bridge to good condition and extend the life of the bridge for another 10-15 years before a full replacement can be designed and constructed.
The project will be undertaken in two phases. The first phase will rehabilitate the upper deck wearing surface of the deck with a new continuous concrete surface. The second phase will provide restoration/rehabilitation of the under deck concrete and wood structures, as well as provide a durable wearing epoxy layer to the upper deck. All of this work will impact existing traffic using the bridge.
The first phase of the work anticipated to take place between Noon on August 21st and September 16th, 2020 will require a complete closure of the bridge. Detours will be implemented to have existing traffic primarily use Boston Post Road (Route 20) as an alternate route. The second phase, which has not been scheduled, is anticipated to take place in late October and November of 2020 will require temporary lane closures using police details to control traffic and may require a short closure to apply the epoxy surface to the deck.
The road closures have been coordinated with the Wayland Public Safety Departments and the Town of Sudbury. The closures will improve the quality of the bridge rehabilitation project and reduce the overall cost of the project. Additional information and updates on the construction schedule will be posted on the Town's website (www.wayland.ma.us) and the DPW's Facebook page.
Please contact the Wayland Department of Public Works at 508-358-3672 if you have any questions.
Your patience and cooperation are greatly appreciated.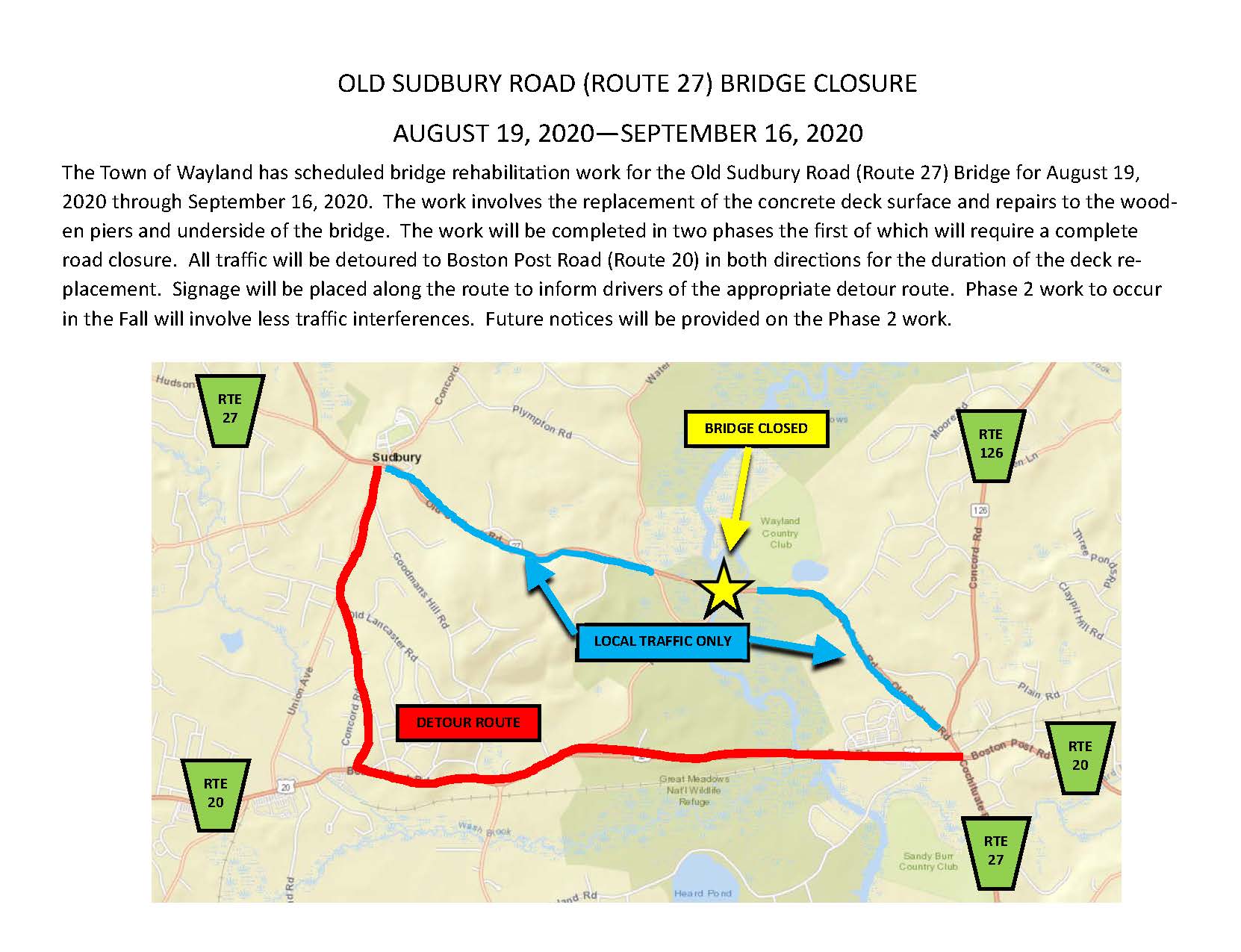 Categories