Town of Sudbury
Department of Public Works
Department of Public Works Building
275 Old Lancaster Road
Sudbury, MA 01776


(978) 440 - 5421
FOR IMMEDIATE RELEASE 07/23/2021
For further information contact:
Dan Nason, Public Works Director
Sudbury Public Works Department
275 Old Lancaster Road
Sudbury, MA 01776
Phone: (978) 440-5421
Sudbury Public Works to Host a Virtual Informational Update Session Regarding the Comprehensive Wastewater Management Plan (CWMP)
Sudbury, Massachusetts – The Sudbury Public Works Department, with their consultants Woodard & Curran, as well as Capital Strategic Solutions will host a virtual informational session on Thursday, August 5, 2021, at 7:00PM regarding the Comprehensive Wastewater Management Plan (CWMP). The virtual informational session will begin promptly at 7:00PM, with a brief presentation regarding the CWMP, followed by a question-and-answer session. Residents, business owners and all interested parties may join the meeting through the Zoom link below:
https://us02web.zoom.us/j/86748430939
Comprehensive Wastewater Management Plan (CWMP) Overview
Sudbury has been investigating wastewater options for the Route 20 Business District for decades. Septic systems have been and continue to be an environmental concern due to the proximity of these on-site wastewater systems that discharge to the ground near the Town's Municipal Water Supply wells located on Raymond Road, as well as a limiting factor to business expansion and/or actual relocation.
Visit sudbury.ma.us/cwmp to learn more about the CWMP. Residents, business owners and interested parties are encouraged to send questions in advance of the information session to cwmp@sudbury.ma.us.
To subscribe to our email list visit sudbury.ma.us/cwmp/email.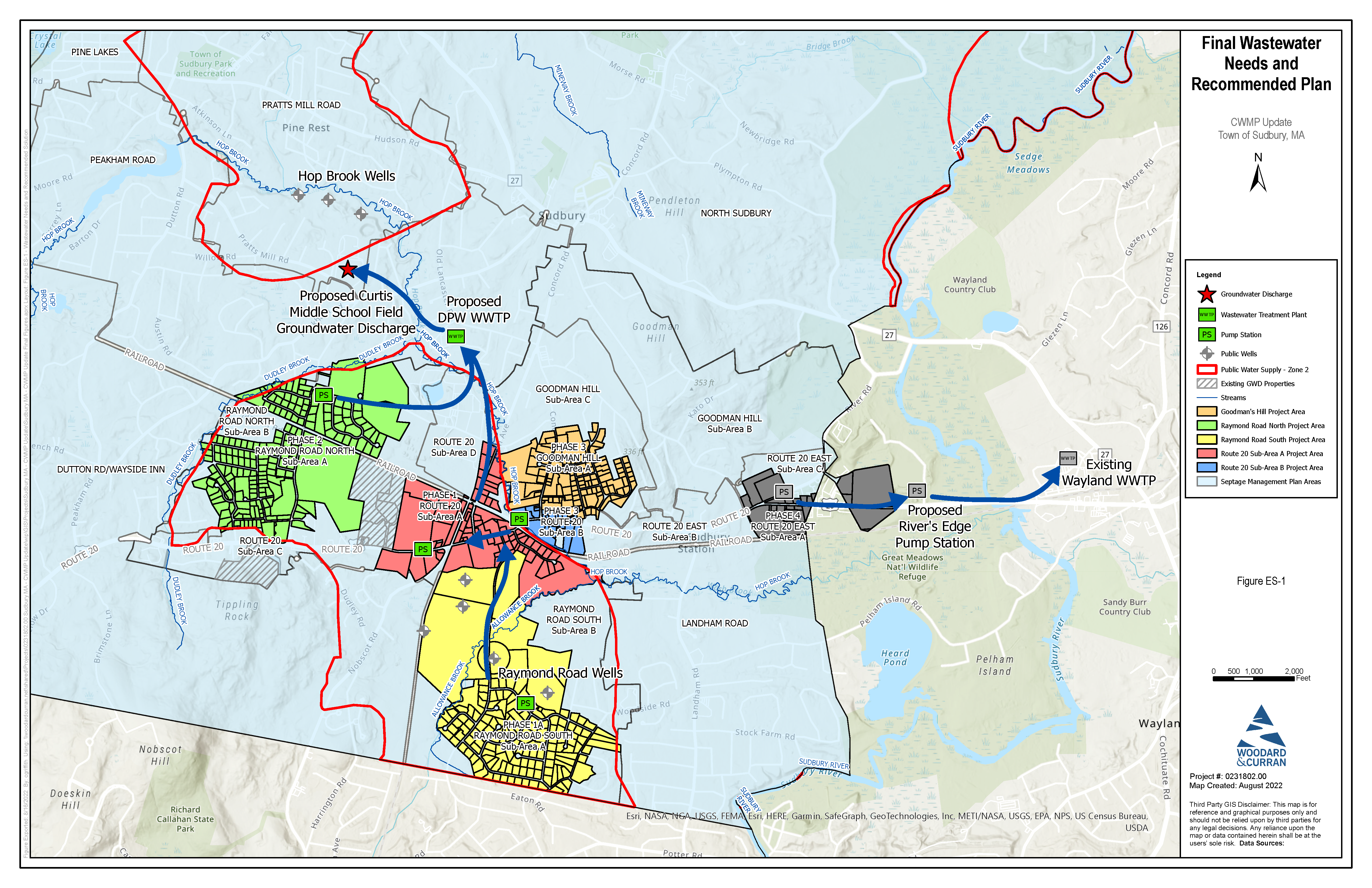 Event Details
| | |
| --- | --- |
| Event Start: | Thursday, August 5, 2021 (7:00 pm) |
| Event End: | Thursday, August 5, 2021 (10:00 pm) (Expected) |
| Location: | Virtual Meeting |
| Department: | Department of Public Works |
| Notes: | The Sudbury Public Works Department, with their consultants Woodard & Curran, as well as Capital Strategic Solutions will host a virtual informational session on Thursday, August 5, 2021, at 7:00PM regarding the Comprehensive Wastewater Management Plan (CWMP). |
| Broadcast: | SudburyTV: Video on Demand |
| Download: | Download this event to add to calendar (.ics) |
Attachments