Beginning on August 31, there will be a roadway closure and detour of Marlboro Road at Pantry Brook, located at 270 Marlboro Road (approximately 1,000 feet west of the Haynes Road intersection). The Department of Public Works had planned this project to take place over the summer so as not to interfere with increased motor vehicle and school bus traffic during the academic year. Unfortunately, supply chain issues have caused significant delays on the project's start time. Thank you for your patience and understanding as we work to improve Sudbury's infrastructure.
UPDATE 8/16/22:
Marlboro Road is anticipated to be closed at the Pantry Brook crossing on MONDAY, AUGUST 29, 2022 FOR APPROXIMATELY 6-WEEKS for a culvert replacement and embankment stabilization project. The closure location is at 270 Marlboro Road or approximately 1,000 feet west of the intersection of Haynes Rd and Marlboro Rd.
Message boards will be deployed over the next couple of days to familiarize the community with the closure information. Over the next few weeks, the contractor will be installing detour signs and covering them in anticipation of the closure.
Road Closure & Detour Details
Purpose
The project includes a culvert replacement and new retaining wall to stabilize the southerly roadway embankment that is in very poor condition.
Timeframe
Start: Monday, August 29, 2022 (moved up from 8/31/22)
Duration: 6 Weeks (approx.)
End: Mid-October (approx.)
Location – Detour Map
270 Marlboro Road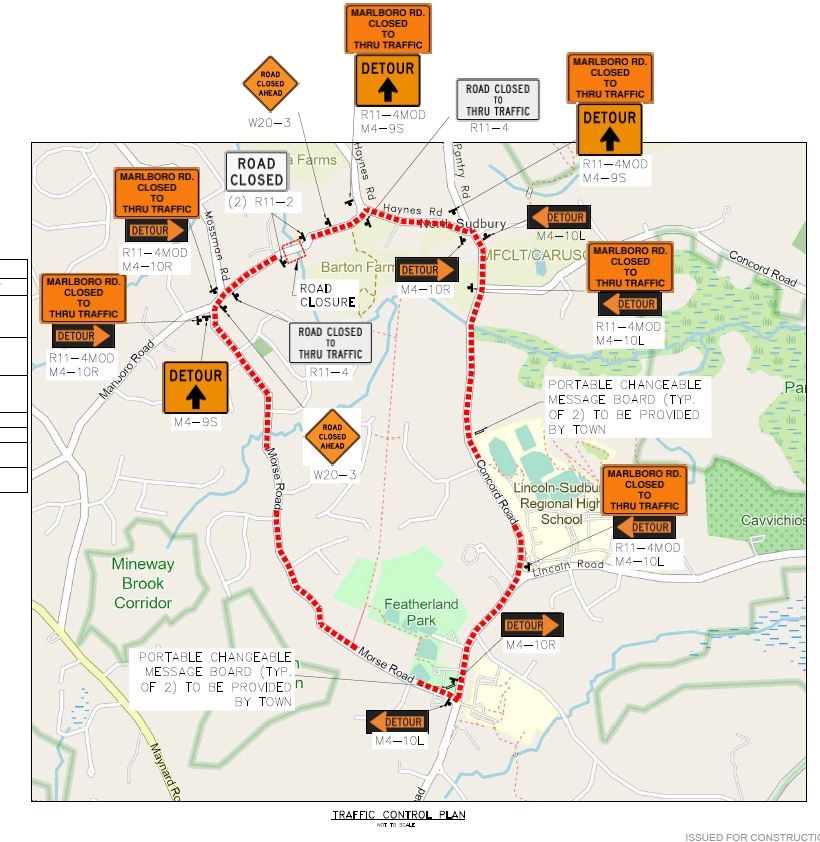 Categories