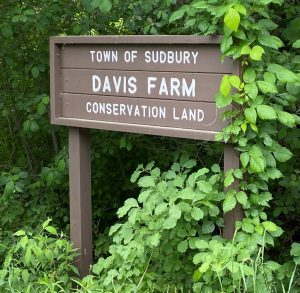 The Davis Farm Conservation Reservation is located on the south side of Rt 117 in northeast Sudbury, 0.2 miles east of the North Sudbury Fire Station. It is a 61-acre tract of land purchased in 1974 for passive recreation. The area presently has trails suitable for walking, bird-watching, cross-country skiing, sledding, and snowshoeing. It adjoins a 42-acre parcel of land purchased by the Park & Recreation Commission.
An old farm path, from which several short trails lead, winds south through the land. The path ends at the base of a sledding slope and a cornfield, which is leased to a local farmer. Lush forested areas surround the farming field. There are many small streams throughout the property.
The Davis Farmhouse was originally built as the Red Horse Tavern in the early 1700's. Reuben Haynes then bought the farmhouse and converted it into a thriving dairy farm. He also cultivated apples, pears, raspberries, blueberries, peaches, grapes, vegetables, and grain. There is still evidence of many of these fruiting crops on the conservation land today.
Trail Challenges
The primary trail at Davis Farm is wide and generally flat. The main trail in the forested area leading to the sledding slope and the main field is wide with small slopes in some areas. Walking the sledding area involves a moderate, continuous slope. Trails within the forested area beyond the farming field contain some tree roots, rocks, and heavy vegetation.
Parking
A small gravel parking lot is located parallel to the former Penn Central Railroad tracks, just west of Davis Field. A gated farm road extends beyond the parking area. No motorized vehicles are allowed beyond this gate.
Trail Comments
"The sledding slope is amazing …it's really wide and long, and the perfect angle."

"In this area, you can clearly see more farming in Sudbury."

"The woods around the field are full of small trails and thick woods."

"There is a giant rock observation point near the parking lot, with great views."

"We saw deer near the edge of the woods."

"Most of the main trail is easy to walk with beautiful woods and streams."
Trail Videos
Davis Farm – Highlights
Davis Farm – Trail Hike
Trail Photographs
Location Categories