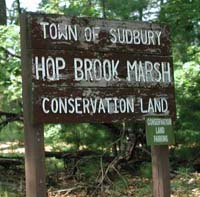 This 80-acre parcel of wetland, floodplain, meadow, and forest was purchased by the Town of Sudbury from the Sudbury Rod and Gun Club in 1967. It offers a varied habitat for a wide variety of plant and animal life. The site features multiple trails and a scenic pond. In addition, the parcel contains beautiful wildflowers, interesting mushrooms, and forest groundcovers. Frogs, turtles, salamanders, fish from the Turtle Bridge, and other species inhabit the parcel. Also, bird species such as blue heron, osprey, and hawk may be seen in the marsh. Many other bird species dwell in the oak-pine forest.
Winter sports enthusiasts may skate on the pond (at your own risk), snowshoe, and cross-country ski on the trails that connect to other open space areas.
Parking is available off of Dutton Rd. Look for the trail sign.
The link below is an informational video about Hop Brook Marsh Conservation Land made as a community service project in September 2010 by a Sudbury Girl Scout.
Hop Brook Marsh Conservation Land video
Historical Information
Hop Brook, a tributary of the much larger Sudbury River, played a crucial role in the development of the Town of Sudbury from its very early settlement. From that time and into the 18th century, Sudbury was on the perimeter of the western expansion of the Massachusetts Bay Colony. The area was wilderness isolated from civilization because of the slowness of horse-drawn travel and also because of the formidable spring flooding of the Sudbury River. The inhabitants had to become self-sufficient both to survive and to develop and prosper. Local establishment of mills was essential for the grinding of grains, sawing and planning of wood, and processing of cloth. The Sudbury River was not suitable for the siting of mills because of the broad wet meadows that surround it. A major tributary, Hop Brook, was chosen. At least seven mill sites, under numerous proprietors, were established along the 9.4 miles of Hop Brook. The last of the mills operated until the middle of the 20th century. All the mill buildings on Hop Brook are gone, but, if one looks carefully, the old mill sites may be found by their remaining dams, spillways, and stonework. Old photographs, deeds, and written records still survive.
The supply of waterpower for mill operation was a major function of Hop Brook for several centuries. Another indispensable function of the brook was undoubtedly the supply of water to the farming population, their stock, and their crops. This contributed to making Sudbury one of the largest towns in the area before and during revolutionary times.
There are also indications that the Native American population used fishing weirs at numerous places on Hop Brook before white settlers arrived.
Trail Challenges
The main trails at Hop Brook Marsh are wide, flat, and well established. There are some tree roots on the minor trails. A slightly slope exists on the end of the trail past the Duck Pond near Hop Brook.
Trail Comments
"There are many fascinating marshes and wetlands all over the property."

"The white pine forest and white pine saplings are wonderful to see."

"The trial was really easy to walk, and it takes you directly to the Duck Pond and the white pine forest."

"The forest all around Hop Brook was beautiful. The trail has many things to see. The Duck Pond has a blue heron and turtles. There is wildlife to see all around the pond."

"The pine trees are tall and majestic."

"I could spend hours around the Duck Pond. There is a trail that is next to the pond, so a hiker can really see everything going on."

"The Hop Brook and the marshland around it have amazing natural features."

"It would be great to walk this property at different seasons to see all of the colors and the changes in the landscape."
Trail Videos
Hop Brook Marsh – Highlights
Hop Brook Marsh – Trail Hike
Trail Photographs
Location Categories