Join the Conversation!
For the past few months, we've met with and listened to Sudbury residents to understand what they see as the Town's assets, current challenges, and future needs. Now, it's time to dive into the issues and talk about solutions.
Please join us as we discuss each topic:
All Meetings Held at:
7:00 Pm to 8:30 Pm
Lower Town Hall Meeting Room
322 Concord Rd
Topics & Meeting Dates:
Transportation, Mobility & Connectivity: Thursday, October 10
Economic Resiliency & Town Services & Infrastructure: Tuesday, October 15
Health, Housing & Equity: Thursday, October 24
Historic & Cultural Resources: Monday, October 28
Natural Resources, Open Space, Recreation: Tuesday, October 29
______________________________________________________________________________________
Transportation to the Meetings
For those in need of transportation to the Master Plan Update Community Conversation meetings this month, Sudbury Senior Center Director, Debra Galloway was able to coordinate a ride option using the Senior Center Shuttle.
For the Transportation, Mobility, and Connectivity meeting on Thursday, October 10th, riders should call Ana Cristina Oliveira at the Senior Center at 978-443-3055 before Wednesday, October 9th at 2:00 PM in order to schedule a ride.
For rides to all other Community Conversation meeting dates later in October, please register for the ride at the MWRTA Call Center at 508-820-4650 at least 2 business days in advance of each meeting. If you are a new rider, please call the Senior Center at 978-443-3055.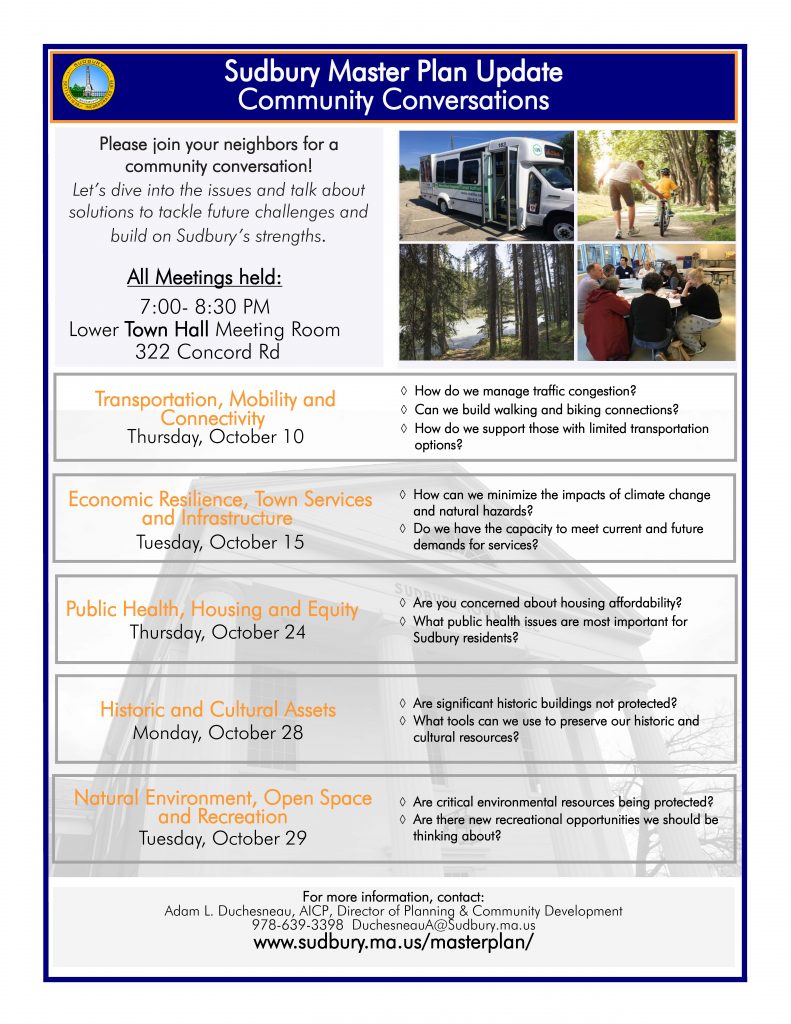 Attachments