Should I push someone's wheelchair if it looks like it's being difficult? Is it offensive for me to say "See you at the next meeting" to the new member of the group who is blind? Should I speak loudly to a person who has hearing loss?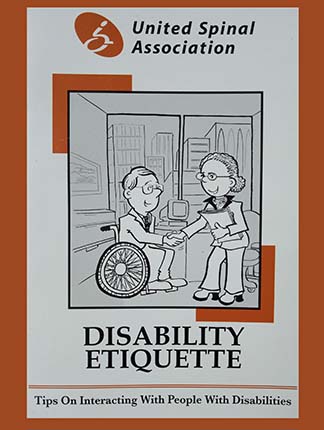 Those of us with little experience with people with disabilities may simply not know what the best practices are for interacting with them in a way that is effective and respectful in spite of our best intentions. The United Spinal Association published a comprehensive booklet of tips for doing just that. It includes information for good etiquette covering all types of disabilities and offers a very wise conclusion:
"People with disabilities are individuals with families, jobs, hobbies, likes and dislikes, and problems and joys. While the disability is an integral part of who they are, it alone does not define them. Don't make them into disability heroes or victims. Treat them as individuals."
You may download the entire booklet free at
Disability Etiquette, Tips on Interacting with People with Disabilities.
Email this Post
Content Shortlink
Back to Commission on Disability