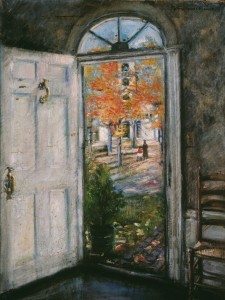 The Hosmer House will be celebrating the Sudbury Old Time Fair with several exciting events. Tours of the House will be given from 11:00 am until 4:00 pm on Saturday, September 12th.
The house is a continuing tribute to Hosmer Family and has several hundred of Florence Hosmer paintings on display. The permanent collections dates from the late 1890 thru 1970s. Also, on display will be numerous beautifully illustrated seed catalogue covers from late nineteenth century. Many are rare and from various horticultural businesses.
Tours of the Faerie Garden will be conducted by members of the Sudbury Garden Club with information about its origin and care. The Girl Scout Troops have revitalized the garden in recent years. A Victorian Kitchen Garden has been established in the back of the house. It exemplifies a typical a New England garden from the time Florence Hosmer was a young lady. Included are herbs and vegetables know to have been used during this time. Research was done with the assistance of the Massachusetts Horticulture Society in choosing the plants for the garden.
A Flower Show and Baked Goods will be on display in the carriage area. The community is encouraged to enter their favorite flower and baked items for the judging Helen Casey will be present for a book signing in the first floor store area. She authored Sudbury's famous "My Dear Girl" which is a composite of letters depicting the life and history of the artist.
Tours are free to the public.
Event Details
| | |
| --- | --- |
| Event Start: | Saturday, September 12, 2015 (11:00 am) |
| Event End: | Saturday, September 12, 2015 (4:00 pm) (Expected) |
| Location: | Hosmer House |
| Committee: | Historical Commission |
| Notes: | The Hosmer House will be celebrating the Sudbury Old Time Fair with several exciting events. Tours of the House will be given from 11:00 am until 4:00 pm on Saturday, September 12th. |
Categories
Email this Post
Content Shortlink
Back to Historical Commission