he Sudbury Historical Commission invites you to 'walk the red carpet' this holiday season at their Annual Holiday Open House at the Historic Hosmer House in Sudbury Center.
This completely decorated 1793 treasure of a house will be open to the public on Saturday, December 5 and Sunday, December 6 from 10:00 am to 4:00 pm, Wednesday evening, December 9 from 6:00 to 9:00 pm, and Saturday, December 12 and Sunday, December 13 from 10:00 am to 4:00 pm. Admission is free.
The overall theme this year is "Hosmer Goes Hollywood" with each room decorated by a local organization with its own festive theme to get everyone in the holiday spirit.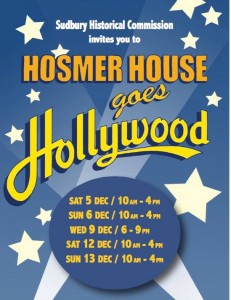 Reminisce with "Hollywood Girls" in the Front Hallway, decorated by the Sudbury Girl Scouts and a "Red Carpet" theme in the Upper Hallway, decorated by the Sudbury Garden club. The Thursday Garden Club presents "The Great Gatsby" in the Dining Room and everyone can take a peek behind the scenes at "Hollywood Caterers" in the old Kitchen. The Sudbury Historical Society is featuring "A Toy Story" in Miss Hosmer's Bedroom while the Back Bedroom offers a tribute to Scott Milley and his dedication to military service. The Ballroom will be offering an "African Movies" theme decorated by the Sudbury Villagers, while the Parmenter Foundation will feature "Peter Pan's Adventures" in the Children's Bedroom, where children can contribute their 'happy thoughts'. The docents of the Hosmer House are even getting in on the act this year by displaying some of the Hosmer family's wardrobe of evening dresses and tuxedos in the Upstairs Bathroom. And last but not least, the Parlor on the first floor, decorated by Save A Dog of Sudbury and Interior Designer Andrea Roessler, will feature "The Muppet Movies" complete with Big Bird making a special guest star appearance.
To make your holiday shopping easier, the General Store will be transformed into a veritable "Macy's" of a department store featuring holiday gifts, decorations, and collectibles including the very popular homemade Gingerbread Men & baked goods, as well as Sudbury & Hosmer House themed hand-painted ornaments, commemorative cup plates, mugs, cozy throws, and an assortment of books and Hosmer prints. Guaranteed to have something special for everyone! Refreshments will also be served.
Adding to the festivities will be various musical entertainment performances on Sunday, December 13th. The LS Chamber Singers will perform on at 1:30 pm. The Brass Quartet will play at 2:30 PM and the Flute group at 3:15 pm.
Admission is free however with every $10 donation guests will receive a special commemorative gift.
The Hosmer House is located at 299 Old Sudbury Road in Sudbury Center at the traffic lights intersecting Route 27 and Concord Road. Parking is available across the street behind the Town Hall or at one of the churches.
Categories