Construction on the Fairbank Community Center is scheduled to begin in July 2022. Unfortunately, as with any construction project, there are disruptions ahead. As we eagerly await our upgraded Community Center (see the latest plan here), we ask for your patience during the construction of this large project. As always, we will work to minimize disruptions to residents as much as possible. Below, please find anticipated impacts that construction will have on Park & Recreation and Aquatics programs and services.
Impacted Programs and Services – Scroll down to navigate.
Park & Rec Camps
SMILE Playground/Haskell Field
Basketball & Volleyball Courts at Fairbank
Atkinson Pool
UPDATE 6/29/22: List of Area Playgrounds updated. Please click below.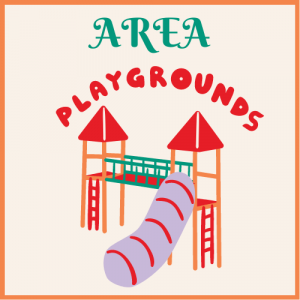 Park & Recreation Camps: Sudbury Summer & Sudbury Adventure
Park & Recreation Summer Camps (Sudbury Summer and Sudbury Adventure will be relocated to Haskell Field for the summer of 2022 and possibly 2023. This is necessary as the Fairbank construction area (shown below) will be located on the grounds typically used for camp operation. The relocation will be necessary for the duration of construction, which is currently expected through the end of 2023.
For details on camp operation at Haskell field, please see 6.13.22 Park and Rec Commission: Sudbury Summer Presentation as well as the SMILE Playground & Haskell Field section below.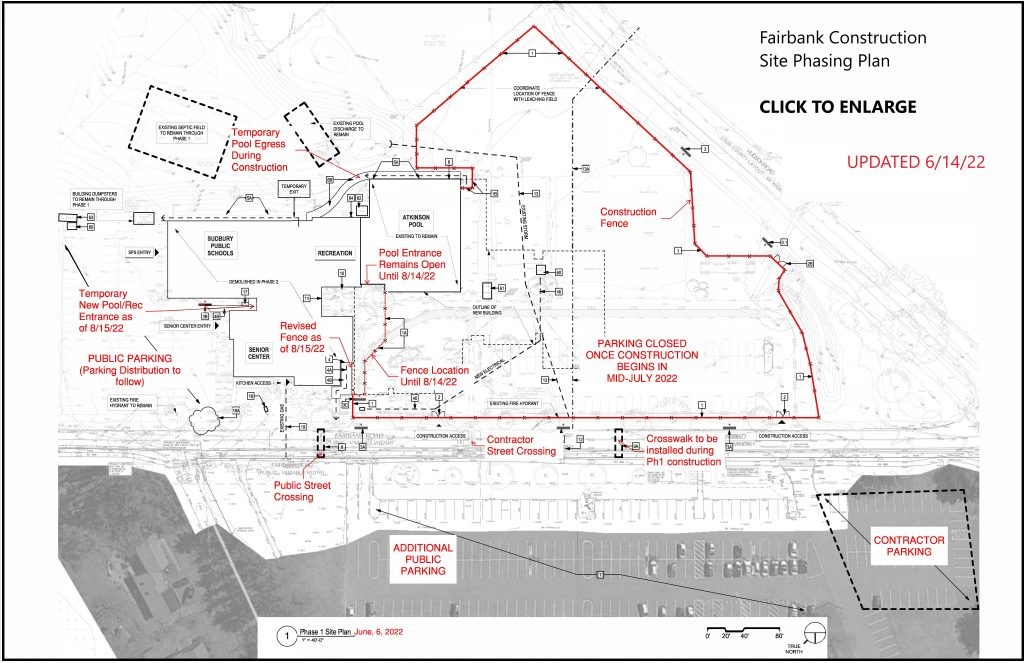 SMILE Playground & Haskell Field
Due to the relocation of Sudbury's Park & Recreation Camps, sections of Haskell Field, including the SMILE playground, will be closed to public access when camp is in session July 5 – August 12, Monday through Friday, from 8:30AM – 3:30PM. The playground is an important recreational resource for the community, especially during the summer, and every effort was made to find suitable alternatives for camp operation. As the camp uses the pool and Fairbank's indoor spaces during inclement weather, an area in close proximity to the Community Center was needed. In accordance with safety protocols, the camp operation area is open only to campers and staff during camp hours. We apologize for this inconvenience and thank you for your patience during construction.
The areas shown in red below will be used for Summer Camp operations and closed to the public, during the following dates and times:
July 5 – August 12, 2022
Monday – Friday
8:30am – 3:30pm
Please click here for a list of Area Playgrounds. Updated 6/29/22
All areas will be open to the public during evenings and weekends.
4 large tents with picnic tables will be available for use by the public outside of camp hours. Installation of the tents at Haskell is expected on Monday, June 27.
Please note, Camp Counselor training will take place underneath the tents on June 29-30, 2022. The playground will be available during that time.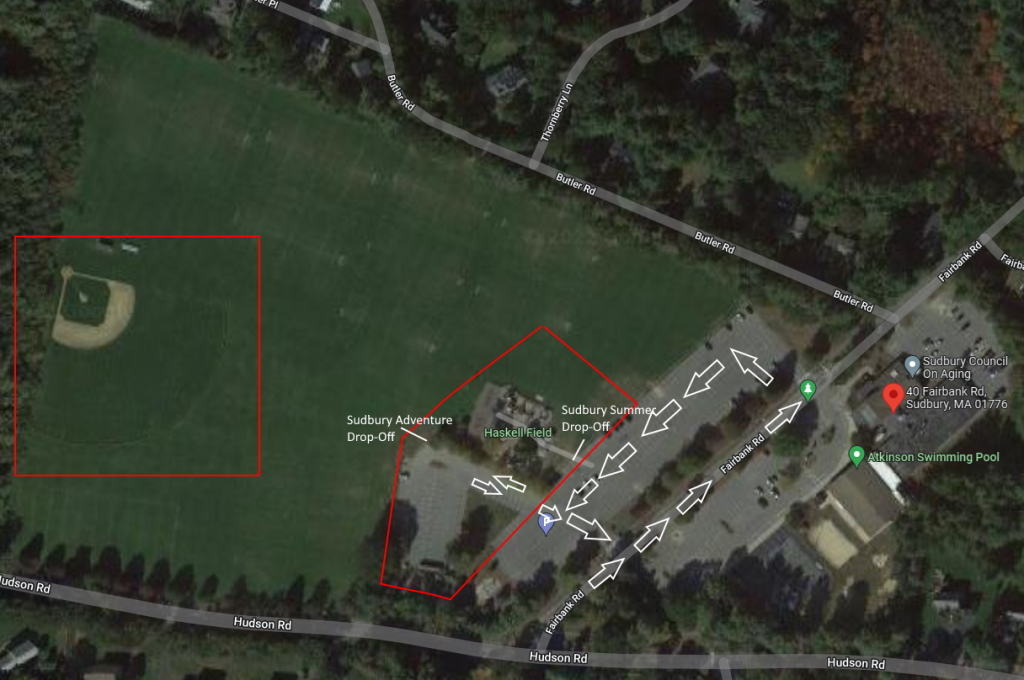 Basketball & Volleyball Courts at Fairbank
The Volleyball Court along the side of the Fairbank Community center has been taken down in preparation for construction.
The Basketball Court along the side of the Fairbank Community center will also be unavailable after the construction fence is installed on the week of July 5, 2022.
Atkinson Pool
A temporary entrance relocation is currently scheduled for August 14. Other updates regarding construction impacts on Atkinson Pool, including and short-term closure, are coming soon.
While these changes are temporary, we recognize that they will be disruptive for many. Thank you for your support of the new Community Center and your understanding as we progress through this large project. Any updates will be communicated as soon as they are available. Please check the Fairbank Community Center page (https://sudbury.ma.us/fairbankproject) for the latest information.
Categories