Sudbury recognizes it is vulnerable to the impacts of natural hazards and climate change, and will build capacity to be more resilient. The Sudbury Select Board invites all Sudbury community members to a panel discussion about the risks posed by the climate emergency and the various ways the town can address these risks.
Thursday, July 14, 2022
7:00 PM – 9:30 PM
Virtual via Zoom
KICKOFF QUESTIONS
What climate risks to Sudbury have you identified through your work? What has your department already done to plan for and address risks?
What are the benefits that could be gained for residents and their quality of life through additional sustainability measures?
Moving forward, what steps, processes, and/or resources should the Town utilize to address climate risks and become more sustainable?
PANELISTS
Hear from the State and town officials, staff, and other experts on sustainability and climate change. The forum will feature presentations from:
Massachusetts Senators Mike Barrett and Jamie Eldridge
State Representative Carmine Gentile
Alison Field-Juma, OARS Executive Director
Ken Pruitt, Sustainability Director, Winchester
Janie Dretler, Vice-Chair, Select Board (Moderator)
Rami Alwan, Energy and Sustainability Committee
Lori Capone, Conservation Coordinator
Adam Duchesneau, AICP, Director of Planning & Community Development
Sandra Duran, Combined Facilities Director
Dan Nason, Public Works Director
Beth Suedmeyer, Environmental Planner
John Whalen, Fire Chief
Bill Murphy, Health Director
CLIMATE EMERGENCY DECLARATION
At 2022 Annual Town Meeting, the Town voted Article 58: Climate Emergency Declaration. Click below to learn more.
ASK A QUESTION

Questions for the forum may also be submitted in advance via email. Please send questions to townforum@sudbury.ma.us prior to Wednesday, July 13, at 5 PM. Please put "2022 Town Forum" in the subject line and include your name and address for the record.
Live Q&A to follow presentation.
BROADCAST
The forum will be broadcast live on SudburyTV and will be made available to view On-Demand.
Comcast: Channel 8
Verizon: Channel 31
SudburyTV Live Stream: http://sudbury.vod.castus.tv/vod/index.php/@live:ch1#castusvod_autoplay=1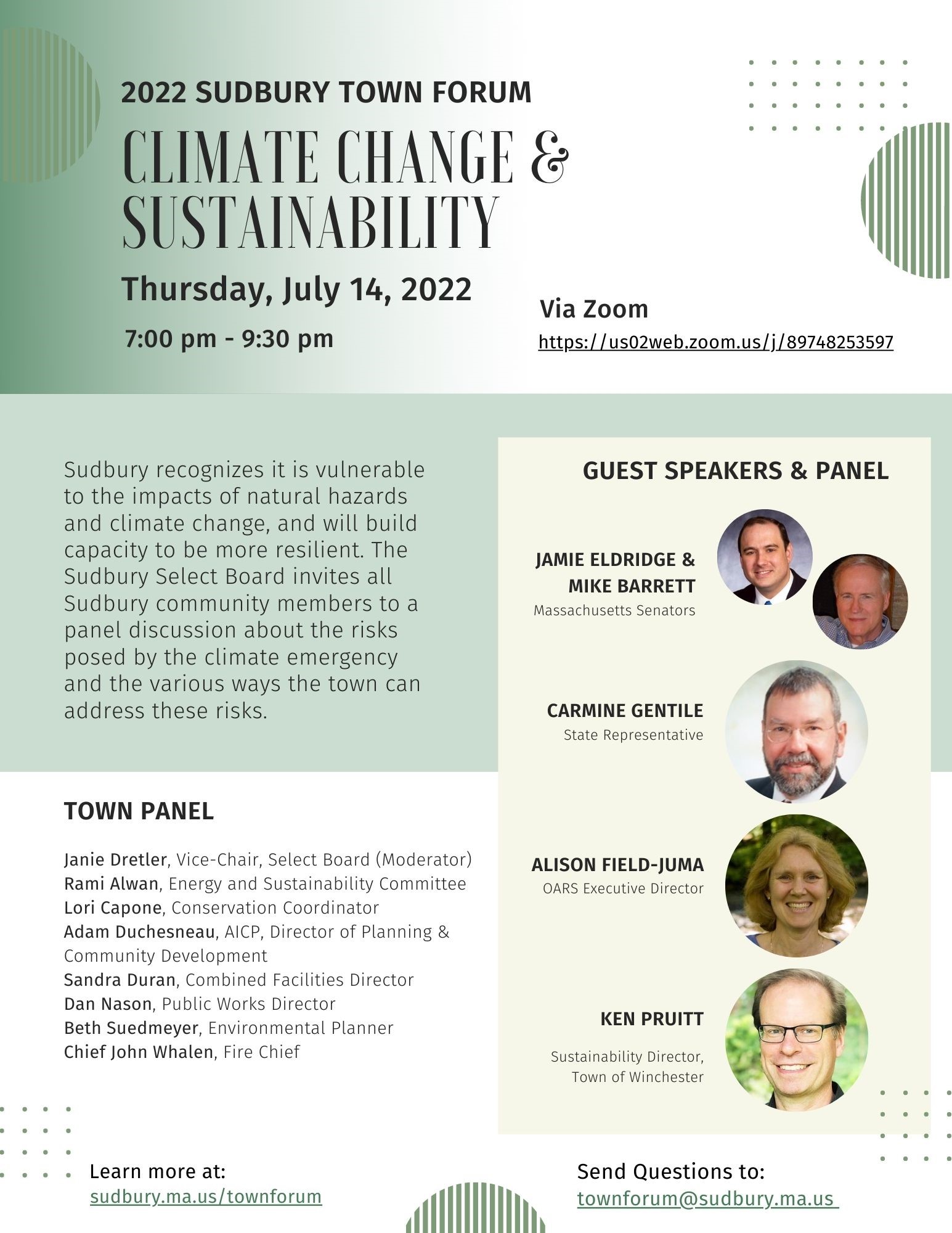 Event Details
Categories