To protect staff and public safety, including safe vehicular and public safety ingress and egress from the Sudbury Transfer Station and pedestrian safety on site, campaign sign holding and signature collection are permitted in designated areas at the Sudbury Transfer Station, 20 Boston Post Road, with the following conditions:
All sign holding and signature collection is to take place within the "Sign Holding Area" designated below. This includes the area marked below and the sidewalk on the west side (near the metal, glass, paper and plastic receptacles).
Leaving the designated sidewalk may create dangerous personal safety and traffic circumstances whereby an unnecessary distraction is created, putting multiple people in harm's way. The Town is not responsible for unsafe conditions resulting from non-compliance.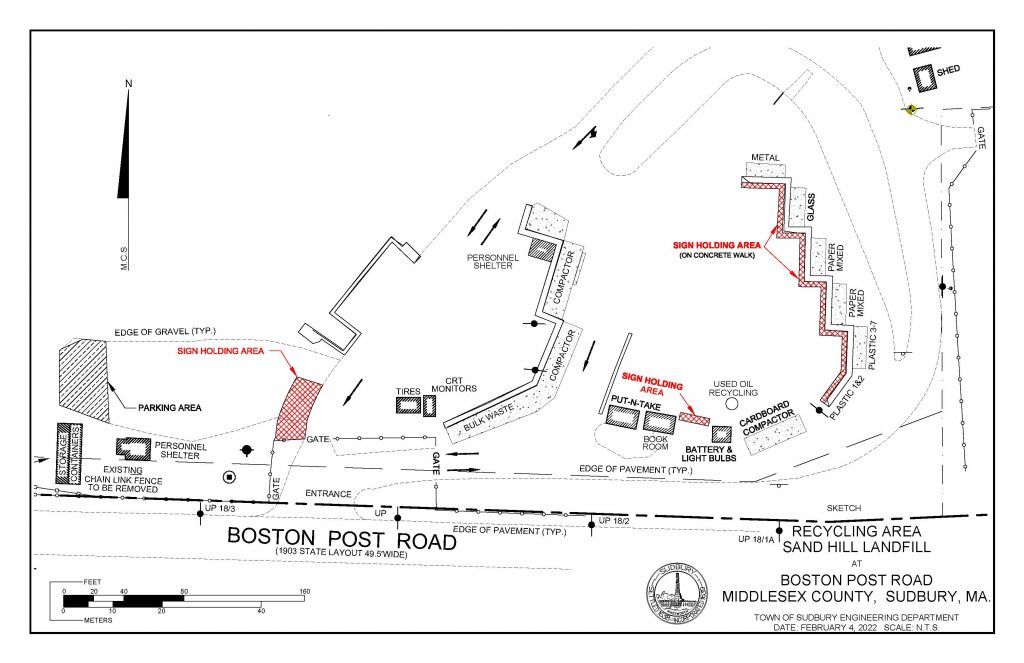 To ensure public and staff access to the Transfer Station for its municipal waste and recycling services, those using the Transfer Station for the above sign holding and signature collection activity must park their vehicle within the designated "Parking Area" detailed above.
The above activities may be conducted during regular Transfer Station operating hours. Check the website at https://sudbury.ma.us/transferstation/ to confirm operating hours and verify that the Station is not closed due to events such as inclement weather or holidays.
Space for participation in the above activities is available on a first-come, first served basis. To ensure safety access to and from the transfer station for waste and recycling operations, individuals using the designated area may not park in other areas of the Station for the above activities, block access to the Transfer Station or otherwise prevent or hinder pedestrian or vehicular access to the Transfer Station for waste or recycling activities, including emergency operations.
This policy was updated after careful consideration and multiple reviews, with consultation from Town Counsel. The areas identified at this time for parking and conducting such activities have been deemed safest for workers, pedestrians and motorists, and emergency vehicle access, if necessary.
Categories