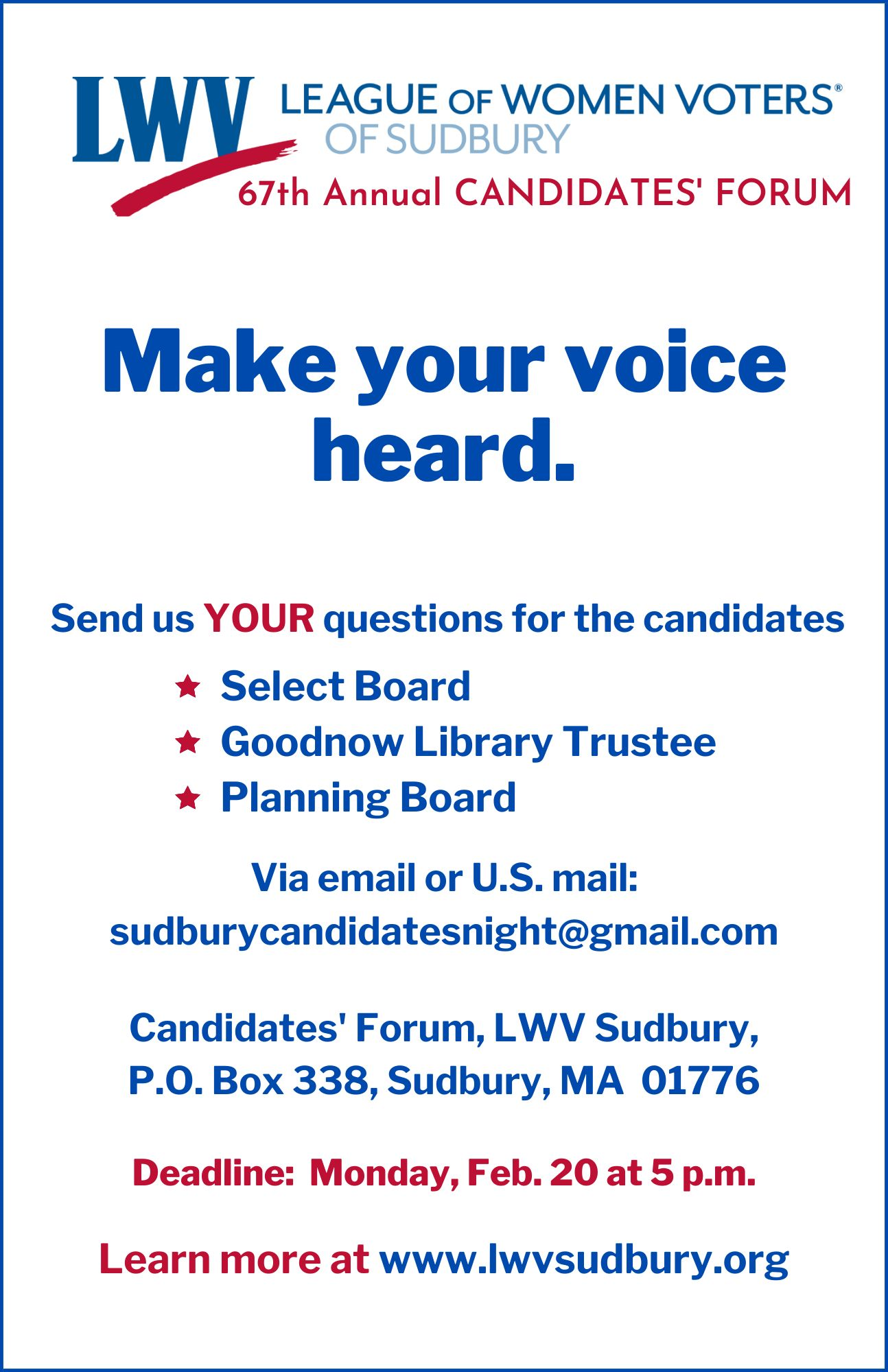 Message from The League of Women Voters of Sudbury:
Learn More about the Candidates For Town Offices and School Committees 2/6/23
The League of Women Voters of Sudbury offers voters three options to learn more about the candidates running for town offices and school committees in the Monday, March 27, annual town election—Candidates' Forums for the contested races, Meet the Candidates drop-in event, and the LWV Voters' Guide.
Candidates' Forums for the three contested races for Select Board, Planning Board and Goodnow Library Trustee, along with statements from uncontested candidates, will be recorded at the end of February in the SudburyTV studio. The public can submit questions to sudburycandidatesnight@gmail.com or P.O. Box 338, Sudbury, MA 01776.
The one-hour forums for each contested race will be available starting in early March on the Sudbury cable television channels and as video-on-demand programming on SudburyTV's website, www.sudburytv.org. The on-demand programming is available via a computer or smartphone and does not require a cable subscription.
New this year is a drop-in chance to talk to the candidates in person. The LWV Sudbury Meet the Candidates is Sunday, March 12, 2 to 4 p.m., (snow date March 19) at Goodnow Library. Voters are welcome to stop by and talk with any of the candidates; there is no formal program.
The annual LWV Sudbury Voters' Guide will be posted on the League website, www.lwvsudbury.org, starting in mid-February. Each candidate is invited to submit contact information, website, and social media links plus a brief statement on the office they are seeking. Candidate profiles will be posted in the Guide as they are received.
There are 16 candidates running for 13 open positions on the ballot this year.
Candidates in contested races are:
Select Board (1 seat, 3 years): Charles Russo and Radha Raman Gargeya
Planning Board (1 seat, three years): John D. Riordan, Julie Zelermeyer Perlman
Goodnow Library Trustee (2 seats, 3 years): Ingrid Mayyasi, Timothy Alan Anderson, Elizabeth Iwasaki
Candidates in uncontested races are:
Board of Assessors (1 seat, 3 years): Liam Joseph Vesely
Board of Health (1 seat, three years): Susan Sama
Park and Recreation Commissioner (1 seat, 3 years): Benjamin Carmel
Commissioner of Housing Authority (1 seat, 5 years): Frank W. Riepe
Sudbury School Committee (2 seats, 3 years): Mandy Sim, Nicole Burnard
Sudbury School Committee (1 seat, 1 year): Sarah Troiano
Lincoln-Sudbury School Committee (2 seats, three years): Ravi Simon (Sudbury), Lucy Mason Maulsby (Lincoln)
The election is Monday, March 27. Voters can vote by mail in advance or in person on Election Day. There is no in-person early voting.
Categories