The people of Sudbury are affected by the heinous actions seen in Minnesota, Maryland, Michigan, and all across the country. Please join us to ask questions, share thoughts and learn more in this first Community Conversation – a starting point for addressing this critical issue as a community.
Click here to view the program.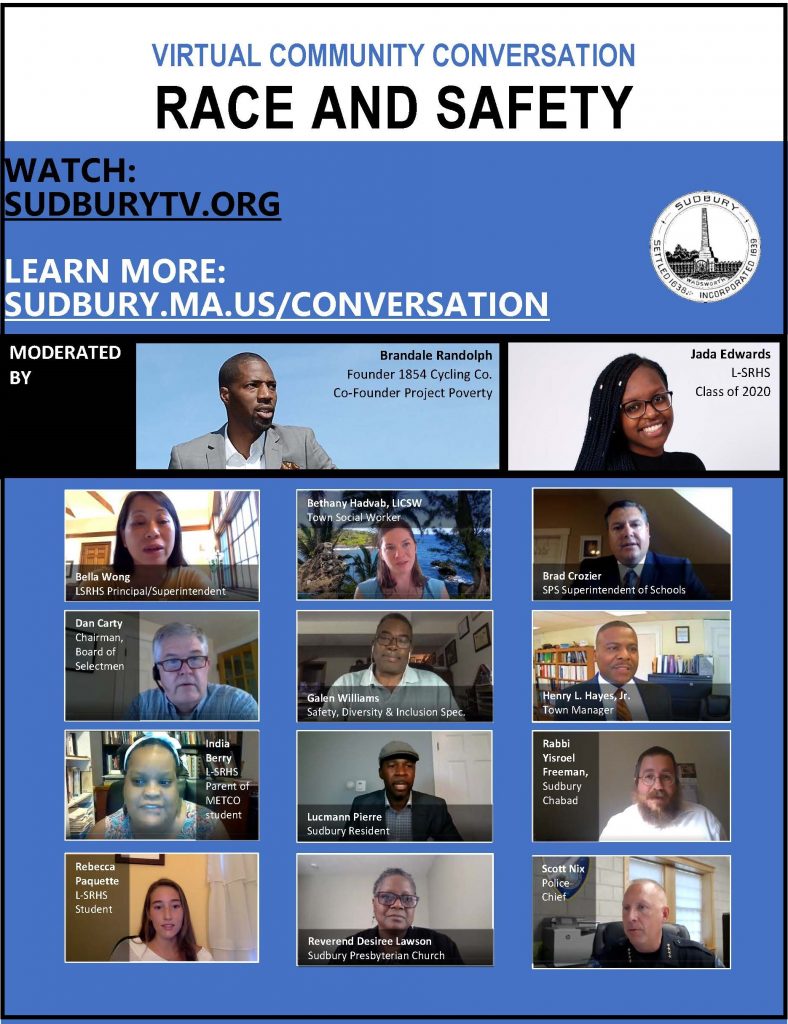 Moderators
We are pleased to announce that author, entrepreneur and lecturer Brandale D. Randolph will moderate the Sudbury Community Conversation on Race and Safety. L-SRHS Class of 2020 Graduate Jada Edwards will co-moderate.
Panel
Panelists were invited based on the content of questions received and to provide diverse viewpoints.
Bella Wong, LSRHS Principal/Superintendent
Bethany Hadvab, LICSW, Town Social Worker
Brad Crozier, SPS Superintendent of Schools
Dan Carty, Chairman, Board of Selectmen
Galen Williams, Safety, Diversity & Inclusion Spec.
Henry L. Hayes, Jr., Town Manager
India Berry, LSRHS Parent of METCO student
Lucmann Pierre, Sudbury Resident
Rabbi Yisroel Freeman, Rabbi, Sudbury Chabad
Rebecca Paquette, LSRHS Student
Reverend Desiree Lawson, Pastor, Sudbury Presbyterian Church
Scott Nix, Police Chief
Join the Conversation
Questions for the Conversation must be submitted via email in advance. The deadline for submitting questions was Friday, June 19.
All Sudbury residents are invited to ask questions, share concerns and offer ideas via email. We hope to hear from everyone in Sudbury, across race/age/gender/religion/other lines. Everyone is encouraged to contribute, ranging from those actively involved in Town government to those who have not participated in the past.
Email conversation@sudbury.ma.us by Friday, June 19 at 5PM
Please include "Race and Safety" in the subject line
Please provide your Name & Address for the record
Click here to see questions submitted for the Conversation: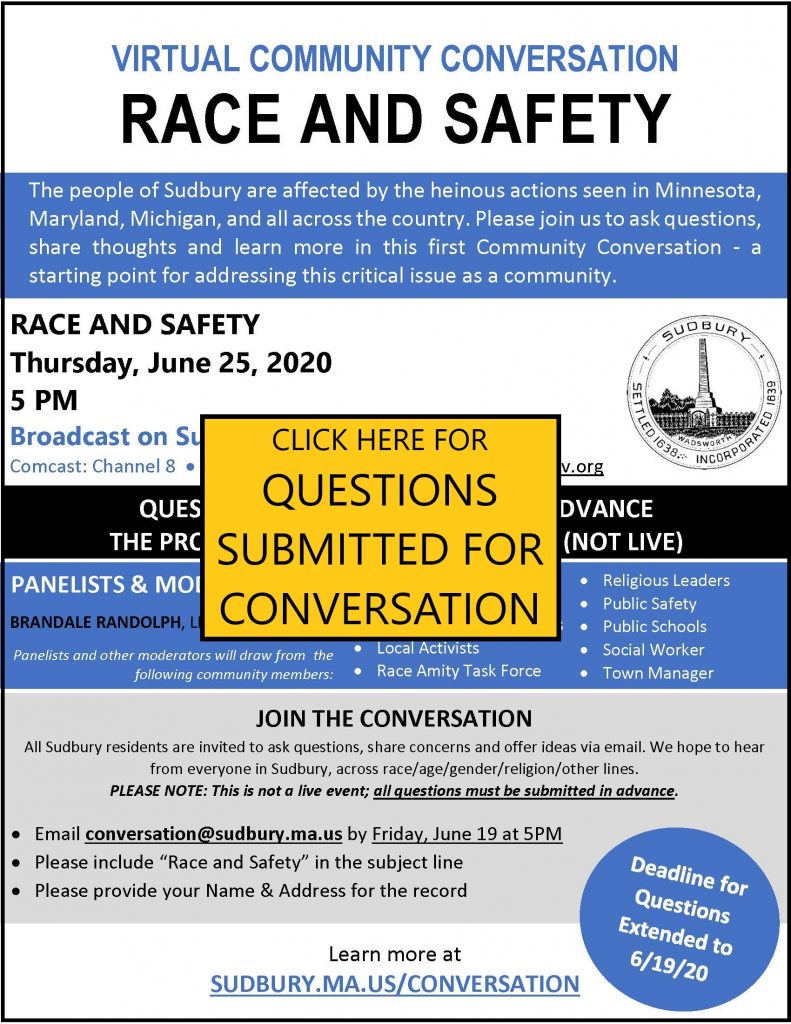 Event Details
| | |
| --- | --- |
| Event Start: | Thursday, June 25, 2020 (5:00 pm) |
| Event End: | Thursday, June 25, 2020 (7:00 pm) (Expected) |
| Location: | Virtual Meeting |
| Department: | Town Manager |
| Notes: | The Community Conversation aired on SudburyTV on Thursday, June 25 at 5 PM. View the recorded program at sudburytv.org. |
| Broadcast: | SudburyTV: Video on Demand |
Categories