The Go Sudbury! Taxi Rides Program service will be SUSPENDED starting March 2, 2021. The last day to take a medical ride through this program will be Monday, March 1, 2021 (with last bookings being made by Friday, February 26, 2021).
After March 1, 2021, the Taxi Rides Program will ONLY be able to provide a limited number of rides to/from COVID vaccination appointments on a first come, first serve basis while remaining limited funding allows.
The Town is currently exploring options to obtain additional funding for the Go Sudbury! Taxi Rides Program in an effort to possibly restart the program later in 2021.
——————————————————————————————
A temporary fully subsidized taxi service for eligible Sudbury residents!
At the end of August 2020, the Town of Sudbury, through its Transportation Committee, was awarded a grant from the Urgent Taxicab, Livery, and Hackney Transportation Partnership Grant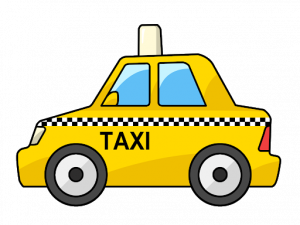 Program sponsored by the Metropolitan Area Planning Council (MAPC) and MassDevelopment. The Town is thrilled to have this Taxi Rides Program funded as it will fully subsidize taxi transportation for vulnerable populations (such as older residents, veterans, persons with disabilities, medical staff, first responders, etc.) for trips to work, medical appointments, grocery shopping, or other trips at no cost to qualified participants. The Town has engaged two taxi businesses to provide this service: Tommy's Taxi in Framingham for sedan transportation, and JFK Transportation in Natick for sedan transportation and wheelchair accessible van (WAV) service.
The Town is conducting registration for the Taxi Rides Program through the Senior Center. Dispatching services will be handled through the Planning and Community Development Department.
This program will run through March 1, 2021. Once you register for the program and are confirmed to be an eligible participant, you will be provided information on how to schedule a ride.
To register for this program, PLEASE CLICK HERE.
Alternatively, you can also contact Ana Cristina Oliveira at the Senior Center at 978-443-3055 or OliveiraA@sudbury.ma.us to register for the program.
Categories