Storm Debris Pickup is substantially completed. Processing of storm debris at the Melone drop-off site has concluded.
DPW has cleared Sudbury's roadways of the storm debris. Due to the extent of storm-related damages, the cleanup efforts took several weeks to complete.
Residents have been asked to pull any tree debris that has resulted from the storm to a point on their property that is four to ten feet from the edge of pavement by Friday, March 30, 2018. Debris removal specialists have surveyed the extent of the damages and provided the town with a work plan. The objective of this cleanup is to remove vegetative debris that fell during the storm. We are asking residents to include only vegetation or debris that was damaged during the storm as additional debris will only increase the costs and extend the timeline of the cleanup efforts.
The town offered two options for removal of debris resulting from the storm:
PICKUP
Residential storm debris removal began on Monday, April 16. A schedule of work is shown in the maps below and was updated on a weekly basis.
Please note, due to cost, roads will be cleared once and it will not be possible to return to areas that have been cleared. We ask that residents plan accordingly.
WORK SCHEDULE
The Work Schedule for debris pickup is reflected in the maps below.
Please note, the schedule is subject to change based on unforeseen circumstances.
Week 3: 4/30/18 – 5/5/18
Week 2: 4/23/18 – 4/28/18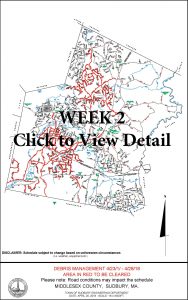 Week 1: 4/16/18 – 4/21/18
EQUIPMENT
Mayer Tree Service has been selected to perform the debris cleanup work. Below are pictures of the equipment that will be used.
Mayer Debris Truck
Mayer Grapple Truck
DROPOFF
While storm debris pick-up will include all residential roads, those who wish to dispose of their debris sooner and have a means of transporting the debris will be able to do so at the drop-off site. Starting on Monday, April 16, Sudbury residents may drop off storm debris at the Melone property on North Road (Route 117). Please bring a photo ID: this service is open to Sudbury residents only, no landscape companies and no commercial loads will be permitted. There is no charge for this service. We are asking residents not to include vegetation or debris that was not damaged during the storm or that is part of regular landscaping. Additional debris will only increase the costs and extend the timeline of the cleanup efforts.
Dates: April 16, 2018 – May 18, 2018
Hours: Monday – Saturday, 8AM – 3PM
Residents Only: Please bring photo ID. No contractors.
PROCUREMENT
Typically, a minimum of 30 days are needed for the town to advertise, obtain quotes and award a contract for this type of service. Sudbury utilized an emergency procurement process which allowed us to hire a contractor in one week. The timeline is as follows:
Bid Specifications Distributed: April 5, 2018 – COMPLETED
Vendor Site Visit: April 9, 2018 – COMPLETED
Bids Due: April 12, 2018 – COMPLETED
Contract Awarded: April 13, 2018 – COMPLETED
Begin Work: April 16, 2018 – COMPLETED
Further support of cleanup efforts have been requested from the state. Please click on the following dates to see the letters mailed on 3/15/18 and 3/29/18.
Please be careful not to block walkways or impede travel along roadways. Your patience was appreciated as we worked to clean up after this winter's powerful storms. This was a long and difficult process and we appreciated everyone's cooperation as we worked to complete this project.
Categories