Employee & Supervisor of the Year
I am so proud of the efforts of all of our leaders, in every position with the Town, we truly have sustained a "Safe, Secure, Serviced and Strong Sudbury" in the toughest of times! I am proud of the herculean efforts and results we have produced in 2020!
-Town Manager Henry L. Hayes, Jr.
Al Hutchinson, 2020 Employee of the Year
Hired January 8, 1989 (31+ years of service)
Alan was the Town's first School Resource Officer. He created a pilot program called STARS (which stands for "Students Thinking and Acting Responsibly in Sudbury") which expanded initiatives to address the ever-increasing challenges students face. Alan serves his role with professionalism, dignity, compassion and respect; routinely going above and beyond. He has truly been a leader in his department demonstrating his commitment to fellow Officers, as well as the mission of the department. Mentoring and guiding all with his calming, thoughtful advice is routine. This leadership transcends into the community and schools as well.
Other 2020 Employee of the Year Candidates
Kimberly Polcari (Fire Dept.)
Robin Porcella (Accounting)
Beth Porter (BOH)
Brian Powell (IT Department)
Amy Stimac (Library)
Heidi Wright (Library)
Bill Murphy, 2020 Supervisor of the Year
Hired September 2, 2014 (6+ years of service)
Bill has commandeered the Town of Sudbury through two large Public Health Emergencies, first during the EEE outbreak then followed by COVID-19 pandemic. During both emergencies he acted as a Public Health expert and communicated with the Public and Town at large in a professional and knowledgeable way. He conducted Drive-Thru Flu Clinics and also secured funding avenues for PPE supplies and much needed nursing staff for the department during the Pandemic, taking the burden off of the Town. His ease with the residents and collaboration with other Town departments make him a true leader as a Health Director.
Other 2020 Supervisor of the Year Candidates
Deb Galloway (Senior Center Director)
Esme Green (Library Director)
Bill Murphy (BOH Director)
Scott Nix (Police Chief)
Mark Thompson (IT Director)
Municipal Minute Interview
Town Manager Hayes interviewed 2020 Employee of the Year, Officer Al Hutchinson and 2020 Supervisor of the Year, Health Director Bill Murphy in Municipal Minute Episode 14. Hear about their careers, experiences and what earning "employee of the year" has meant in 2020.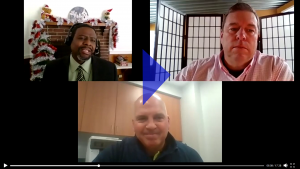 Prior Employee of the Year Winners
2019: Shawna Risotti
2018: Michael Lucas
2017: Phyllis Schilp
2016: Chris Felt
2015: Doug Stone
2014: Ken Anderson
2013: Kathy Plante
2012: Marilyn Reiman
2011: Deb Greeno
2010: Peter Anderson
2009: Brian Powell
2008: Mary G. Corley
2007: Cynthia W. Gerry
2006: Elaine L. Jones
2005: Dennis A. Mannone
2004: Arthur J. Richard
2003: Mark W. Thompson
Categories