Election Day
Tuesday, September 1, 2020
Polls are open from 7:00 AM to 8:00 PM
Voting Locations
Specimen Ballots
There are 4 parties and 6 precincts in Sudbury. Registered voters who are "Unenrolled" may select the ballot for any party in their precinct. Please find your party below and click on your precinct to view a specimen ballot.
Not sure which party or precinct you are in? Find your precinct and party registration here: Voter Status Search
Democratic
Green-Rainbow
Libertarian
Republican
New Rules have been promulgated, so please read carefully. If you have already filled out an absentee application for all elections you do not need to fill out another one.
Check to see the status of your application or ballot click here: TRACK MY BALLOT
VOTE BY MAIL
Absentee Voting is available for those who qualify. Learn more here: Vote By Mail Information. The deadline to apply for an absentee ballot for this election is by 5:00 p.m. on Wednesday, August 26, 2020.
Early Voting by mail is available for all registered voters. The State has mailed out applications to registered voters. If you have not received an application, they are available on the Town website. The deadline to apply for an early voting ballot for this election is by 5:00 p.m. on Wednesday, August 26, 2020. Applications should be filed with the Town Clerk's office as soon as possible as it may take 5 to 8 days to receive your ballot.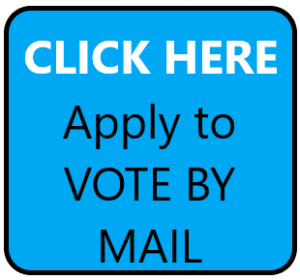 Ballots may be returned by mail or can be dropped off in a lock box located in the vestibule at the Town Clerk's office, 322 Concord Rd. Ballots must be returned to the Town Clerk's office by 8 pm on election day to be counted.
In Person Early Voting is available to all registered voters who prefer to cast their ballot prior to election day. Facial coverings will be required and social distancing observed
EARLY VOTING DATES:
Saturday, August 22 through Friday, August 28, 2020
HOURS:
M, W, Th) 8:30 AM – 4:30 PM
Tu) 8:30 AM – 7:00 PM
F) 8:30 AM -12:30 PM
Sat and Sun. 10 AM – 2 PM
LOCATION:
Town Clerk's Office, Lower Town Hall, 322 Concord Road.
Voter Registration
The last day to register to vote for this election is August 22, 2020. 2-4 pm and 6-8 pm.
Register to vote on-line or learn more here: https://www.sec.state.ma.us/ovr/.
Please contact the Town Clerk's Office at [email protected] or 978-639-3351 with any questions.
Event Details
Event Start:
Tuesday, September 1, 2020 (7:00 am)
Event End:
Tuesday, September 1, 2020 (8:00 pm) (Expected)
Location:
Not specified, see notes.
Notes:

There will be a State Primary Election on Tuesday, September 1, 2020. Polls will be open from 7 AM to 8 PM.
Find out how to vote by mail. More →