A Purchase & Sale agreement has been negotiated for the purchase of the CSX Corridor property. The total cost of the acquisition is $1,220,500. Town Meeting will be asked to cover the purchase price and estimated due diligence costs of $1,145,500 and $75,000, respectively. A Recreational Trails Grant and a MassTrails Grant have been secured to allocate $400,000 to the purchase. The grant funds are reimbursements, so the funding request at the Town Meeting and Election will be a debt exclusion of $820,500 and available cash of $400,000, the later to be reimbursed by grants.
The Board of Selectmen voted at their meeting on August 25, 2020 to release the Purchase & Sale Agreement for the proposed acquisition of the CSX Corridor in Sudbury. The Board authorized the Chair in a previous vote to sign the Purchase and Sale Agreement within the parameters indicated in executive session. On August 13, 2020, CSX presented the final version of the document, upon review, the Chair and Town Manager signed the Agreement. Subsequently, the Executive Vice President of CSX Transportation, Inc. signed the Agreement on August 24, 2020 and provided to the Town on August 25, 2020. As a result, the Purchase & Sale Agreement is fully executed, and the Board of Selectmen has ratified the culmination of actions leading up to and including this Agreement.
The Town is conducting due diligence on the property. The CSX corridor remains closed to the public.
Per MGL C.160, S. 218:
Section 218: Standing, walking or riding vehicle on railroad property
Section 218. Whoever knowingly, without right is present, stands, walks, or rides a bicycle, snow vehicle, recreational or other vehicle on the right-of-way, bridge, or other property of, or used or controlled by any railroad corporation, except at a highway or other authorized grade crossing and except on rights-of-way formally abandoned pursuant to state or federal law and no longer owned by said railroad corporation or rights-of-way owned by said railroad corporation but which have been converted or leased specifically for use as a bicycle or walking path in accordance with state or federal laws, shall be fined $100 or shall be required to perform a total of 50 hours of community service which may include service in the operation lifesaver program, so-called. Any person violating this section may be arrested without a warrant by any police officer, including railroad police, and proceeded against according to law.
Learn More
CSX Acquisition Presentation – Annual Town Meeting (September 12, 2020)
CSX Acquisition Info Flyer (Annual Town Meeting – September 12, 2020)
CSX Purchase & Sale Agreement (August 25, 2020)
City of Framingham Letter of Support (August 19, 2020)
Appraisals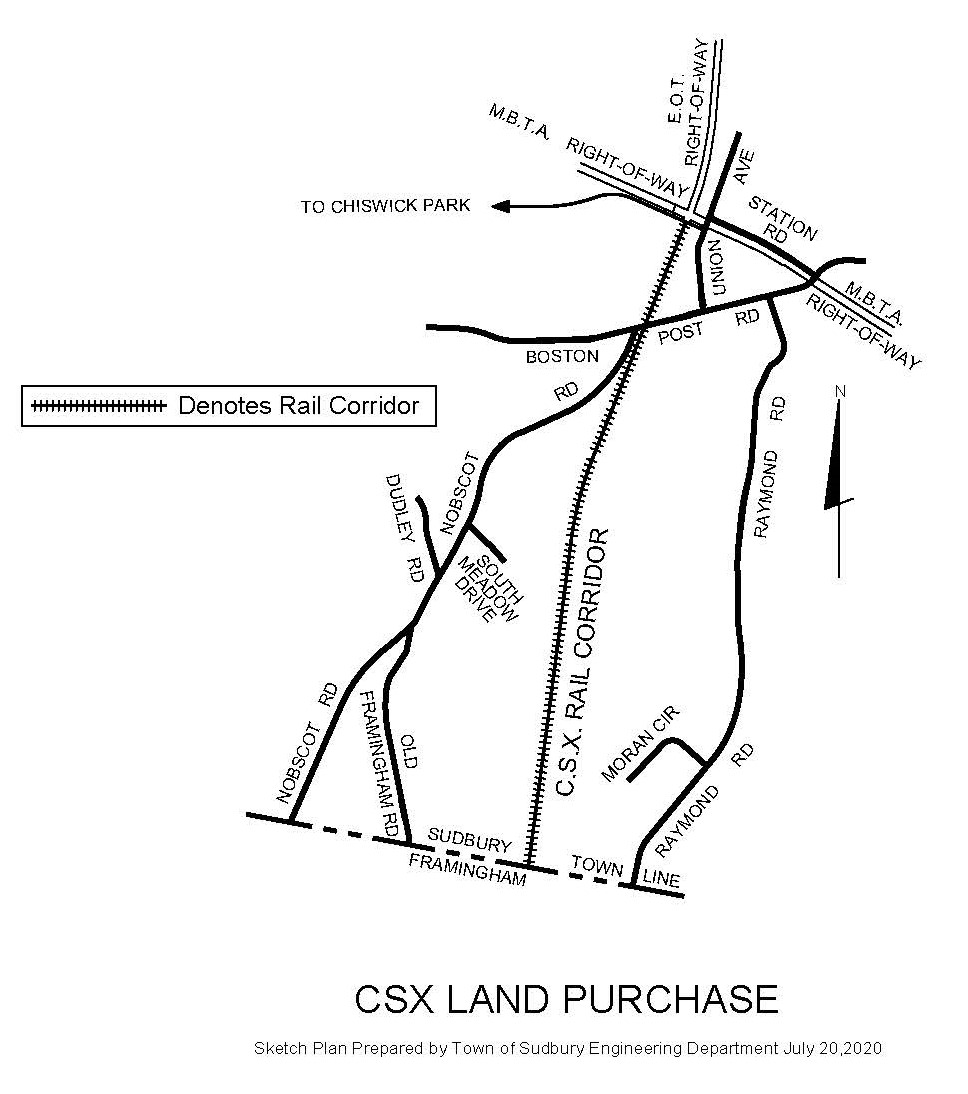 Questions? Please contact the Selectmen's Office at 978-639-3381.
Categories