STATE PRIMARY ELECTION
Tuesday, September 6, 2022


Polls Open: 7 AM to 8 PM


Town Hall: Precincts 4, 6
Fairbank Gym: Precincts 1, 2, 3, 5
YOUR PRECINCT OR POLLING PLACE MAY HAVE CHANGED AS OF 12/31/21.
Please visit the Secretary of State's Where Do I Vote Election Information Search to verify your precinct before election day.
Ballot Info
Specimen Ballots
There are two ballots (Democratic and Republican) for this election. Registered voters who are "Unenrolled" may select the ballot for either party. Please find your party below and click on your precinct to view a specimen ballot.
DEMOCRATIC – D September 6, 2022 Specimen Ballot (ballot has pink header)
REPUBLICAN – R September 6, 2022 Specimen Ballot (ballot has blue header)
Not sure which party you're registered for? Find your voter registration info here: Voter Status Search
Vote By Mail
Voting by Mail is available now for every primary and state election. You do not need a reason to vote by mail. The deadline to apply for a Vote by Mail ballot for this election is by 5 PM on Monday, August 29, 2022. If you are unenrolled then you must request either a Republican or Democratic ballot, otherwise you may not receive a ballot for the Primary. If you have sent in a vote by mail application for 2022, then you do not need to send in a postcard application. If you are living out of the country or in the military you can still vote. Click here for a Federal Post Card application. FPCA Button.
1. APPLY TO VOTE BY MAIL
The deadline to apply for an early voting ballot for this election is 5 PM on Monday, August 29, 2022. with the Town Clerk's office. Applications should be filed with the Town Clerk's office as soon as possible as it may take 5 to 8 days to receive your ballot.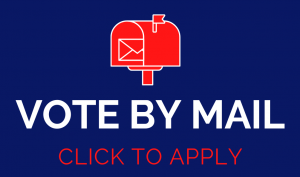 2. COMPLETE & RETURN YOUR BALLOT
When you receive your Vote by Mail packet, complete your vote by: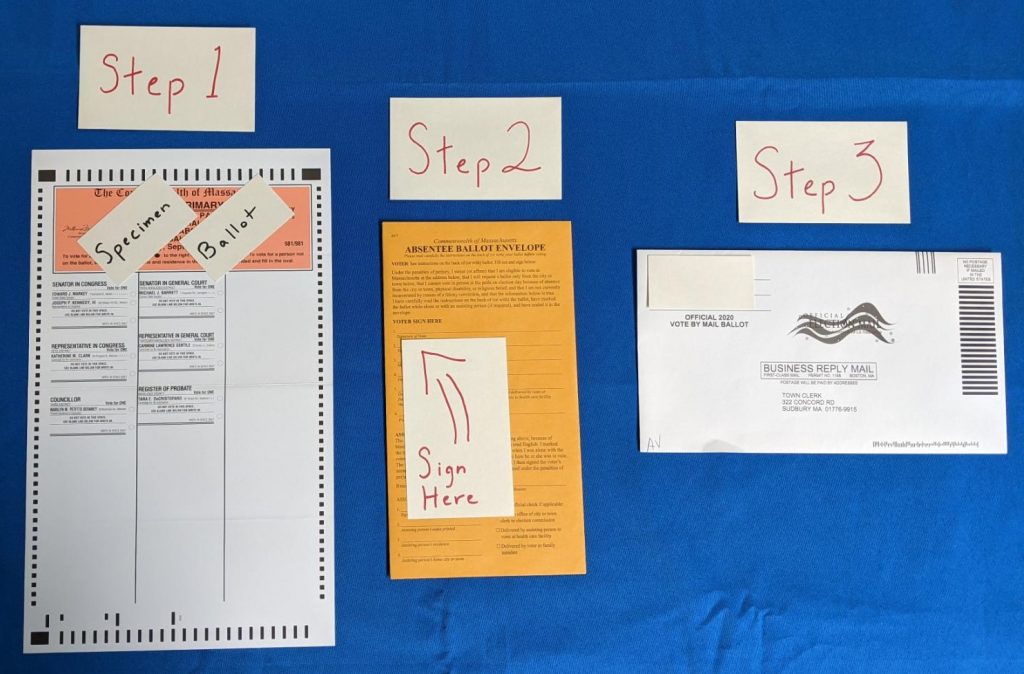 Fill out the ballot
Place ballot in yellow envelope, SIGN YOUR NAME and seal the envelope
Place sealed, yellow envelope into white envelope and seal -No postage needed
Return your ballot:
Return by mail or
Town Clerk's Office or
Drop off in the ballot drop box located outside the Town Clerks office, 322 Concord Road. (Rear of building) This is the only ballot drop box available. It is open 24/7.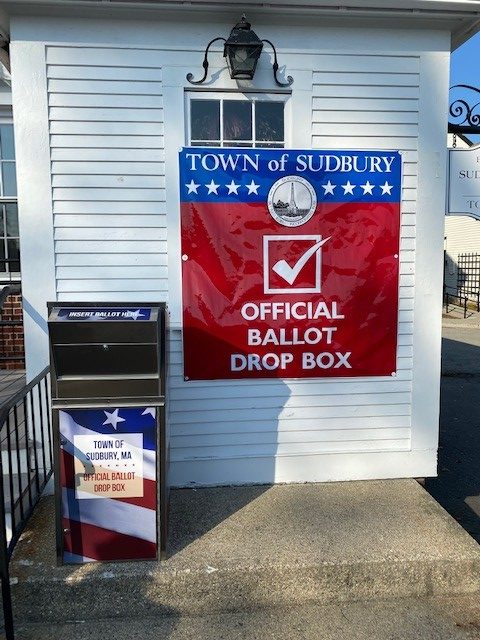 Ballots must be returned to the Town Clerk's office by 8 pm on September 6, 2022 (Election Day) to be counted. Ballots can not be left at the polling place. Reminder: Once your ballot is received by the Town Clerk's office it is cast and you can not vote again.
As of Friday, August 19th the Town Clerk's Office has processed:
Total Vote by Mail Requests Received: 2690
Total Ballots Mailed: 2621
Percent Mailed: 97.43%
Total Ballots Returned: 532
3. TRACK YOUR BALLOT
Check the status of your Vote by Mail Application or Ballot here: TRACK MY BALLOT

In Person Early Voting
Early Voting in person is available to all registered voters who prefer to cast their ballot prior to election day.
EARLY VOTING DATES:
Saturday, August 27 through Friday, September 2, 2022
HOURS:
M, W, Th) 8:30 AM – 4:30 PM
Tu) 8:30 AM – 7:00 PM
F) 8:30 AM -12:30 PM
Saturday Aug. 27th. 8:30 AM – 2:30 PM
.
Voter Registration
The last day to register to vote for this election is Saturday, August 27, 2022. The Town Clerk's Office will be open until 5PM for in-person registration.
Register to vote on-line or learn more at https://www.sec.state.ma.us/ovr/.
ADVANCE OPENING
Notice of Advance Removal of Absentee and Early Voting ballots for the September 6, 2022 State Primary
The Town of Sudbury will be opening Early voted and Absentee ballots on the following days and times:
Thursday, September 1, 2022 9:00 AM
Friday, September 2, 2022 9:00 AM
Location: Lower Town Hall Meeting Room-322 Concord Rd. Sudbury MA.
This notice will be posted on the Sudbury Town Website
The Advance Removal of ballots process is open to the Public for observation during the above dates and hours.
August 29, 2022
Please contact the Town Clerk's Office at clerk@sudbury.ma.us or 978-639-3351 with any questions.
Event Details
| | |
| --- | --- |
| Event Start: | Tuesday, September 6, 2022 (7:00 am) |
| Event End: | Tuesday, September 6, 2022 (8:00 pm) (Expected) |
| Location: | Not specified; see notes. |
| Department: | Town Clerk |
| Notes: | TODAY: State Primary Election Day is Tuesday, September 6, 2022. Polls are open from 7 AM to 8 PM. |
| Download: | Download this event to add to calendar (.ics) |