2020 marks the first year that the Hop Brook Protection Association has engaged in a concerted effort to manage water chestnut in Grist Mill, Carding Mill, and Stearns Mill Ponds using Clearcast, after many years of trying to mechanically and manually harvest this aggressive, invasive species. Clearcast (or imazamox) developed 1969, is a compound that is absorbed by the leaves and stems of plants, which is transported to the roots, inhibiting the production of a specific enzyme that synthesizes essential amino acids in susceptible plants. Plant growth stops immediately and the plants dies within 4-12 weeks.
As water chestnut seeds are viable to up to 12 years, this will be a multiple year program, funded by Community Preservation Act funds. Below are aerial photos and drone footage provided by the Hop Brook Protection Association showing the effectiveness of the initial treatment.
The Conservation Commission is actively working with the Hop Brook Protection Association to ensure safe, effective, and compliant practices are employed by the applicator. The end result will be eradication of water chestnut from these ponds. We look forward to seeing a reduction in population in the coming years.
Stearns Mill Pond
Stearns Mill Pond Pre-treatment Survey
Post First Round of Treatment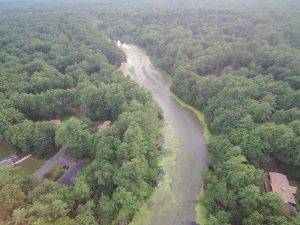 ><(((°> ~~~~ ><(((°> ~~~~~ ><(((°> ~~~~~ ><(((°> ~~~~ ><(((°>
Carding Mill Pond
Carding Mill Pond Pre-treatment map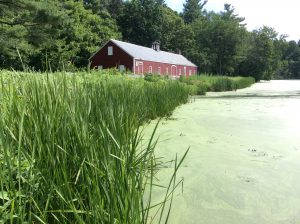 ><(((°> ~~~~ ><(((°> ~~~~~ ><(((°> ~~~~~ ><(((°> ~~~~ ><(((°>
Grist Mill Pond
Grist Mill Pond Pre-treatment Map