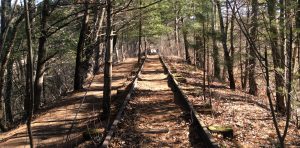 This page contains information related to the Notice of Intent filing submitted by Eversource and the Department of Conservation and Recreation for the installation of a new 115 kV underground electrical transmission line and the construction of a portion of the Mass Central Rail Trail, from the existing Sudbury Substation to the Hudson town line, along the inactive Massachusetts Bay Transportation Authority Right-of-Way.
Notice of Intent Documents
Revised Materials Submitted for the July 8th Meeting
Public Comment Letters
Questions and Answers
Third Party Peer Review:
Conservation Commission Meeting Recordings
Conservation Commission Meeting Minutes
Please join us on July 8, 2020 for the next scheduled hearing on this matter.
Please note that at the applicant's request, this matter will be continued from our
June 15, 2020 meeting to July 8, 2020, without discussion.
For additional background information on this project please click here to see the Eversource Transmission Line Project Information page.