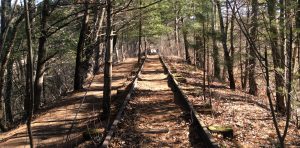 This page contains information related to the Notice of Intent filing submitted by Eversource and the Department of Conservation and Recreation for the installation of a new 115 kV underground electrical transmission line and the construction of a portion of the Mass Central Rail Trail, from the existing Sudbury Substation to the Hudson town line, along the inactive Massachusetts Bay Transportation Authority Right-of-Way.
Trail Connections During Construction
For the next 18-24 months, the Eversource Transmission Line Project, which runs adjacent to Hop Brook Conservation Land, will be under construction. During this time, the rail bed corridor will not be accessible to the public and trail connections between Hop Brook and Memorial Forest will not be available. The Town has worked with the contractor to permit two trail connections, shown on this map, during the time of year restrictions when construction cannot occur on this section of the corridor. Only these two crossings will be available for public use from May 1 through July 31, 2023. Hikers will need to stay either north or south of the rail corridor all other times of the year. Please use the respective trail heads (either the Hop Brook Conservation Land or the Women's Federation parking areas on Dutton Road, or the Assabet River National Wildlife Refuge on Hudson Road) to access these respective trail systems. Time of Year Restrictions have now expired and extensive work will be occurring from the Hudson Town Line to Dutton Road, including the removal of the Hop Bridge (Bridge 128), starting August 1. There should be no access through the Eversource corridor until further notice.
Construction Schedules:
Construction Schedules will be provided and updated weekly throughout construction. Please use the most recent construction schedule to determine when construction in anticipated to be in your area.
Weekly Environmental Compliance Packages
Environmental Compliance Reports are provided weekly that document work conducted each week and oversight provided to ensure compliance with permitting.
Erosion Controls and Stormwater Inspections
Notice of Intent Documents
Revised Materials Submitted for the July 8th Meeting
Revised Materials Submitted for August 13, 2020 Meeting
Revised Materials Submitted for the November 2, 2020 Meeting
Revised Materials Submitted for the November 23, 2020 Meeting
Revised Materials Submitted for the January 21, 2021 Meeting
Public Comment Letters
Questions and Answers
Third Party Peer Review:
Conservation Commission Meeting Recordings
Conservation Commission Meeting Minutes
Order of Conditions
At their meeting on February 3, 2021, the Conservation Commission closed the hearing and voted to issue an Order of Conditions approving this project.
Construction Documents
Baseflow and Baseline Water Quality Monitoring Program Results
For additional background information on this project please click here to see the Eversource Transmission Line Project Information page.