Ballot Questions
Click here to view the Specimen Ballot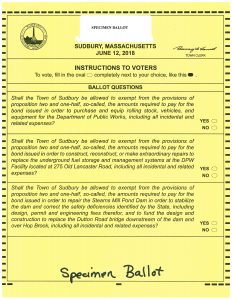 Warrants for the Special Town Election have been mailed to all households.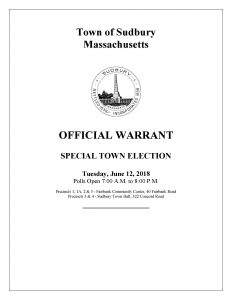 Election Day
Polls are open from 7:00 AM until 8:00 PM
Where to Vote
PCT. 1, 1A, 2, and 5 vote at Fairbank Community Center, 40 Fairbank Road
PCT. 3 and 4 vote at the Town Hall, 322 Concord Road
Click here to find your polling location and precinct.
Voter Registration
If you are not currently registered to vote in Sudbury, May 23 is the deadline to register and be eligible to vote in the June 12 Special Town Election. Town Clerk's Office is open until 8 PM on Wednesday, May 23.
Click here to check your voter registration status
Click here for additional voter registration information including Online Voter Registration.
Absentee Voting
Click here for information on Absentee Ballots.
The deadline to apply for an absentee ballot for this election is noon on Monday, June 11.
Please contact the Town Clerk's Office at [email protected] or 978-639-3351 with any questions.
Event Details
Start: Tuesday, June 12th, 2018 at 7:00 AM
End: Tuesday, June 12th, 2018 at 8:00 PM